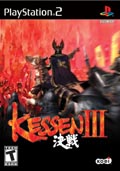 TITLE Kessen III
GENRE Strategy
PLATFORM PS2
DEVELOPER KOEI
US PUBLISHER KOEI
UK PUBLISHER TECMO KOEI Europe
NORDIC PUBLISHER TECMO KOEI Europe
ONLINE PLAY No
Media Screenshots:
SCREENS ADDED: 13 Dec-2004
Official Fact Sheet:
The first sequel in almost three years, Kessen III marks the highly respected franchise's return to Japanese history and aesthetics.
The Story begins at the heart of Japan's turbulent Sengoku or "warring states" period. Endless chaos and plunder have consumed the once isolated islands. A young teenager, known for his extravagant appearance and unconventional attitude emerges from Central Japan ? he is Nobunaga Oda.
While elders admonished him, Nobunaga's contemporaries admired him. Blessed with an indomitable vision and fearless constitution, the soon-to-be legendary Nobunaga will stand against legions of samurai warriors in order to resurrect a land filled with chaos and sorrow.
A completely new, action ?packed gameplay experience with real time combat
The new Crowd Engine enables all stages of battle to take place in full 3D
13 Chapters and over 50 stages of battle
Devastating Ninja attacks summon incredible beasts of war
Use Coordinated Attacks to rout the enemy
Charge the battlefield with various units including a swift cavalry or speedy ninja
Use a Raid to take on enemy soldiers one by one
Enter the War Council to plan marching routes, choose officers to take into battle and determine battle policies
Cultivate officers to improver their combat skills
Customize your officers with over 450 weapons, helmets, samurai armour and other items that improve an officer's stats
A deep and compelling story unfolds through over 120 combined minutes of movie sequences
Non-linear stage selection lets you plan each campaign ? a first for the series!
Majestic battlegrounds with commanding views of Mt. Fuji, and the mighty iron ships at the mouth of the Kizu River
A stirring musical score from legendary composer Reijiro Koroku