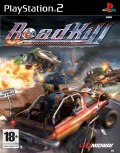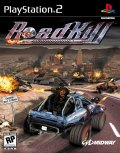 TITLE RoadKill
GENRE Racing
PLATFORM PS2
DEVELOPER Terminal Reality
US PUBLISHER Midway
UK PUBLISHER Midway
NORDIC PUBLISHER Midway
ONLINE PLAY No
Media Screenshots:
SCREENS ADDED: 19 Jun-2003
Official Fact Sheet:
RoadKill drops players into instantaneous battle with 30 core missions and numerous side missions. The missions place the player into the three cities of Hell County — Lava Falls, Blister Canyon and Paradise City. RoadKill's dynamic reputation system determines how the world reacts to the way players perform missions, kill and maim citizens, destroy enemy vehicles and build alliances with the gangs of Hell County. In the game, players collect salvaged parts — which upgrade the 30 vehicles with items such nitrous thrust and armor plating — to unlock secret features and help explore the world in a search for hidden blueprints. In addition, players drive to survive with a radio system that provides alerts about bounties, mission tips and music while they run down, impale, shoot and splatter both innocent and armed civilians.
Car Combat — Select from 30 unique post-apocalyptic style vehicles to experience the ultimate ride in vehicular combat
Drive to Survive — Destroy your opponents throughout three enormous living and destructible cities
Detailed Missions — Engage in more than 30 core missions and numerous side missions as you roam the streets and instigate anarchy
Interactive Chaos — Run over, impale, shoot and splatter both innocent and armed pedestrians in multiple ways, inciting riots
Dynamic Reputation System — Gain the necessary reputation to work your way up from a vagrant to an overlord and develop a gang following that will provide additional protection
Multiplayer — Engage in the ultimate test of vehicular combat: 2-4 player multiplayer Deathmatch Modes
Post-Apocalyptic Earth — Face-off against seven rival gangs, killing the members of some while gaining the respect of others
Unlock Features — Collect salvaged parts from destroyed vehicles to unlock hidden items such as nitrous thrust, armor plating and death match arenas
Search and Recover — Participate in scavenger hunts and find the blueprints necessary to build the ultimate weapons and vehicles
Rock 'n'Roll — Use the dynamic radio system to be forewarned of bounties on your head, to receive mission tips, in addition to using the multiple stations to tune into a variety of rock, rap and heavy metal hits
Xbox Only — Create your own custom soundtrack and hit the streets