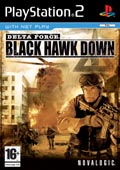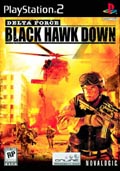 TITLE Delta Force: Black Hawk Down
GENRE Tactical
PLATFORM PS2
DEVELOPER Rebellion Software
US PUBLISHER Novalogic
UK PUBLISHER Novalogic
NORDIC PUBLISHER Novalogic
ONLINE PLAY Yes
Media Screenshots:
SCREENS ADDED: 07 Feb-2005
Official Fact Sheet:
Totally redesigned for the PS2 utilizing the groundbreaking Azura engine, Delta Force ? Black Hawk Down recreates the intense atmosphere of a war-torn country. From tours of duty in the vast Somali countryside, where snipers could lurk on top of any hill – to the maze like streets of Mogadishu, where militia and civilians blend seamlessly. To ensure accuracy, NovaLogic spent months researching the history of the conflict, and worked extensively with three former Special Forces Operatives, including two who served in Somalia in 1993.
NovaLogic has also teamed up with the Special Operations Warrior Foundation. A portion of the proceeds from Delta Force ? Black Hawk Down will be donated to the foundation. The SOWF provides college scholarship grants, along with financial aid and educational counseling to the children of Special Operations personnel who were killed in an operational mission or training accident.
Developed specifically for the PS2 console using the Azura game engine
16 single player missions with unique character skill development progression: accuracy, reload speed, movement speed, unlocking commands etc
Based on the #1 best selling PC game: Delta Force? – Black Hawk Down?
An arsenal of authentic weapons as used by US Special Forces during Operation Restore Hope and Task Force Ranger.
28 total weapons and' equipment
Voice recognition allows players to give their AI teammates orders on the fly.
Support for 32 players through Sony Online ? the largest games ever on PS2!
4 player split screen multiplayer
25 multiplayer maps
10 co-op missions
2 player split screen co-op
7 multiplayer game types: Team Death match, Death match, Capture the flag, Team king of the hill , TAG, Attack and * Defend and Flag ball.
All new MP maps and content designed specifically for the PS2
Portion of the proceeds will be donated to the Special Forces Warrior Foundation