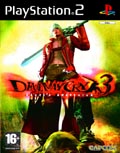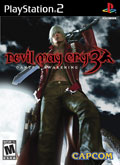 TITLE Devil May Cry 3
GENRE Action
PLATFORM PS2
DEVELOPER Capcom
US PUBLISHER Capcom
UK PUBLISHER Capcom
NORDIC PUBLISHER Capcom
ONLINE PLAY No
Media Screenshots:
SCREENS ADDED: 06 Jan-2005
Official Fact Sheet:
Several thousand years have passed since the demon warrior Sparda raised his sword against the unholy world to save the human race. Victorious and assured that evil forces had been confined, Sparda joined mankind and fathered Dante, a half human-half demon son infused with the power of a supernatural lineage. However, Dante was not the only son Sparda had sired. As devoted as Dante was to defeating the forces of evil, his twin brother, Virgil, was consumed by power and upheld the legacy of his sinister ancestors. One moonlit night, a mysterious tower materialized beside Dante's "Devil May Cry" investigative agency. On the rooftop stood his brother along with his inhuman minions goading Dante into a confrontation.
Devil May Cry 3 unfolds an earlier chapter in Dante's history, before the original Devil May Cry, to the fateful clash between Sparda's twin sons, divided by the divergence of their chosen paths. Along the way, Dante encounters formidable foes and unusual characters including a mysterious man named Arkham and a female hunter named Lady whose mission is to take down all demons, including Dante. These precursory events disclose the complex roots of Dante's character and reveal insight into his clouded past.
Devil May Cry 3 preserves the fast-paced action that has made the series so popular. In addition to its strong roots, the game increases the intensity of gameplay with a new "style" system, which adds an additional level of depth. Depending on preference, players can choose to use short-range, long-range, defensive or evasive play styles. Each system has its own range of gameplay features and players can choose to power up their favorite style for increased special attack abilities. The range of options available in Devil May Cry 3 immerses players in a non-stop, thrilling escapade.
Unrelenting, hard-core gothic action
Fresh new character design ? Dante appears younger, but still has his stylish swagger and rock star good looks
Huge arsenal of weapons – Handguns, powerful shotguns, tricked out guitars and much more
Combo system – Equip Dante with up to four different weapons that can be swapped at anytime, allowing the freedom to develop a range of fighting moves and combinations
Customize Dante's fighting style
Evasive style which allows Dante to deftly dodge enemy attacks with speed and finesse
Close-range specialty maximizes the impact of up close attacks with the blade
Long-range style that lets Dante blow away enemies with his fire arms
Counter attack and guard expertise against strong enemy power
Enhanced graphics – Fully textured rich backgrounds utilizing 3D polygons as well as real time rendering for in game cut scenes and intro movie
Multitude of demonic enemies – More ferocious than ever before with powerful weapons, the ability to transform and fly and other challenging surprises
Obtain orbs throughout the game to purchase new weapons, fighting techniques, increase strength and more
Dolby Digital and Dolby Pro Logic II support
Hidden weapons, items, characters, difficulty levels and more