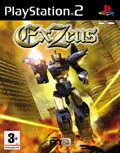 TITLE Ex Zeus
GENRE Action
PLATFORM PS2
DEVELOPER Hyper-Devbox
US PUBLISHER N/A
UK PUBLISHER Metro 3D
NORDIC PUBLISHER Metro 3D
ONLINE PLAY No
Media Screenshots:
SCREENS ADDED: 19 May-2004
Official Fact Sheet:
In 2102 C.E., a giant unidentified asteroid enters the earth?s orbit. It is revealed to be an alien war-machine when it unleashes an attack on the human population. Every day, thousands perish. Those who survive share rumours of an alien entity called ?Diadora?. The survivors took refuge below the earth?s surface, narrowly escaping the alien invaders. The governing Council ordered an immediate counter-attack. The primary objective code-named: Operation ?Ex Zeus? would reclaim the earth?s surface using 3 experimental robots. Operation Ex Zeus? secondary objective is to investigate the alien war-machine?s weakness and defeat the mysterious ?Diadora?. Three freedom fighters-Sophia, Dynamics and Calista are humanity?s last hope for victory.
The genre of Ex Zeus is that of a heavy action mech based 3d shooter. The player has a choice of controlling 3 different robots, ?Sofia? a male robot with average speed and shield protection, ?Calista? a female robot with a high speed but low shield protection and ?Dynamis? a heavy ?male? robot with low speed but high shield protection. These three robots are leaders of a special squadron team having been called into an ?invaders alien? destruction scene.
Originally Ex Zeus was a hit within the arcade/coin-op market and has since been masterfully reworked for the Playstation2?. The player pursues the traditional goals of defeating enemy ships and saving the world. During the course of action the player will experience many explosions, lasers, mega-bombs and other power-ups.
Fast and furious 3D Shoot?em up style, with very powerful weapons and up to 12 different enemies and 5 different bosses.
Incredible gameplay action at 60 frames per second for smooth and precise controls.
Hit-bonus system and power-up rewards.
Shops or garages to upgrade the robot?s features and build the player?s strategy.
Up to 6 different levels with special traps and weather conditions.
Original soundtrack with high-energy techno beat, in line with the intensity of the action.