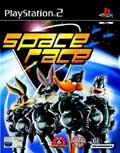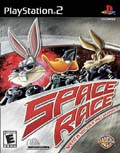 TITLE Space Race
GENRE Racing
PLATFORM PS2
DEVELOPER Tantalus Int.
US PUBLISHER Atari
UK PUBLISHER Namco Bandai Partners (Atari)
NORDIC PUBLISHER Namco Bandai Partners (Atari)
ONLINE PLAY No
Media Screenshots:
SCREENS ADDED: 19 Mar-2005
Official Fact Sheet:
Racing through a galaxy of eight incredible worlds, including two new tracks, racers are challenged through a new Tournament structure where they compete over a series of four Tourneys consisting of races to win one to four cups each, giving a prize total of 13 cups. When a player achieves 1st place in a Tourney, the next Tourney is unlocked and so on. This revised structure is set to minimise any sense of linearity in gameplay.
The game is playable on Easy, Medium or Hard and there will be a progressive difficult curve over the 13 tracks irrespective of the setting opening the game up to players of all ages and skill levels.
As well as all the popular ACME gags from the original code, there will be four new gags designed to make the racing experience of the player's competitors an even tougher affair.
Speaks for itself but precludes the need for a set number of speed canisters. It will also offer protection against any rogue "Black Holes" carelessly strewn about the track.
ACME Genuine Fake Acme Pickup
Thrown down by any player, this small ACME box expands to resemble a "real life" box. The catch? It explodes if anyone dares to pick it up.
As it says on the packet, throw these down and tear your sides apart with laughter as all other racers about you lose control. And not only that ? other ACME gags that happen to be in the vicinity are also rocked out of this world.
ACME Hare Oil: Trying to manoeuvre over this slippery piece of mischief will only send racers skidding off into the void. Keep a calm head and jet straight on through and the player might just make it…perhaps…just hope they are not on a bend.