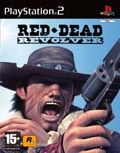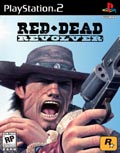 TITLE Red Dead Revolver
GENRE Action
PLATFORM PS2
DEVELOPER Rockstar San Diego
US PUBLISHER Rockstar Games
UK PUBLISHER Rockstar Games
NORDIC PUBLISHER Rockstar Games
ONLINE PLAY No
Media Screenshots:
SCREENS ADDED: 25 Feb-2004
Official Fact Sheet:
Our story begins in the late 1880s. There is no Red Dead Revolver, just Red, a young kid living with his family on the western frontier. His family strikes gold?strikes it rich in fact?but it is not long before news of their good fortune reaches the ears of General Diego, a rogue Mexican general, who sends his bandits on a mission to massacre Red?s family and steal their gold.
Red?s family is slaughtered before his eyes, his mother burned, his father shot down. Red has only revenge on his mind. He quickly picks up his dad?s gun – which fell into the fire ? burning his hand and leaving an imprint as a permanent scar and reminder of what happened. But he gets off a single shot, hitting one of the bandits in the arm as they ride off.
Now, many years later as a man, Red?s prepares to act on his lifelong thirst for revenge…
Read Dead Revolver is a blazing third person gun slinging action game, fueled by a revenge driven storyline punctuated with humor. The arcade style gameplay blends seamlessly with the elements of the Wild West era. Full motion capture cutscenes fuel the cinematic ambition of the game.
You will learn the ways of the untamed frontier as a bounty hunter, in your quest for justice. Red?s arsenal includes a variety of weapons including pistols, rifles, shotguns, and dynamite. During levels Red can carry one side arm, one long arm, and one thrown weapon. In total there will be around 30 different weapons.
The Wild West is realized with a wide variety of environments. Dusty towns, windswept prairies, rugged saloons – all of the elements that one would expect to see in a classic Western movie respectfully integrated into the game. There is a stunning attention to lighting in Red Dead Revolver. Rays of sunlight stream in through windows, candles and torches correctly light interiors, and the sunsets are breathtaking.