PS2 Games
SOS: The Final Escape (AKA Disaster Report)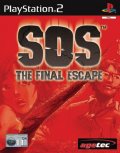 TITLE SOS: The Final Escape (AKA Disaster Report)
GENRE Action
PLATFORM PS2
DEVELOPER Irem Software
US PUBLISHER Agetec
UK PUBLISHER Bigben Interactive
NORDIC PUBLISHER Bigben Interactive
ONLINE PLAY No
Media Screenshots:
SCREENS ADDED: 21 May-2006
Official Fact Sheet:
DISASTER REPORT is truly a new and original title that almost defies classification! With elements that include action/adventure, survival, mystery, and puzzle, Disaster Report offers more than just a test of your quick reflexes, but of your quick thinking skills as well! Disaster Report places you in the role of a newspaper reporter stuck on an island that is continuously hit with severe aftershocks from a major earthquake. The objective is to escape-but to do so with as much of the story behind the destruction of Capital City as possible. Considering the Government would like to keep the truth to itself, you'll soon find out that the wrath of nature may be less dangerous than upsetting the status quo of the Government.
Player have complete freedom to explore the 3D quake-ridden island at their own peril!
The hero must uncover the truth behind the devastation by assisting fellow castaways that are found on the island!
Problem solving includes the ability of the hero to piece together separate items in order to build tools to help in his escape!
The player may use objects like bikes, boats, compasses and more to aid in escaping the island!
No other video game has ever approached this level of simulation in depicting the "real" effects of a major city being torn apart by the forces of nature!
Special Feature: S-FORCE 3D Sound Library is included to make each earthquake feel as real as possible!
1 Player / Memory Card (for PS2) 320 KB or Above / Analog Control / Vibration Function