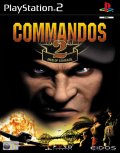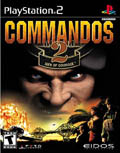 TITLE Commandos 2: Men of Courage
GENRE Strategy
PLATFORM PS2
DEVELOPER Pyro Studios
US PUBLISHER Eidos Interactive
UK PUBLISHER Eidos Interactive
NORDIC PUBLISHER Eidos Interactive
ONLINE PLAY No
Media Screenshots:
SCREENS ADDED: 09 Oct-2005
Official Fact Sheet:
Commandos 2 is a tactical action/strategy game set against the backdrop of World War II. The player takes control of an elite group of commandos who must venture deep into enemy territory to complete a series of mission-based objectives in an attempt to change the course of the war. The game incorporates several new features and utilises a completely new 3D game engine, enabling indoor and outdoor locations as well as the ability to rotate the environment. The player is given a huge new playing field and total freedom to explore as no corner is out of reach.
Commandos 2 features three new characters, who bring with them unique skills to help you defeat the enemy. However, enemy soldiers are smarter and more varied than ever and they will hear, see and even smell your every move!
Take your commandos to new geographical environments including Asia, the Arctic, North Africa as well as Europe. You will drive new vehicles and fire new weapons. The gameplay is faster, more realistic and more action packed than ever before.
Completely new 3D game engine enabling rotatable environments and playable interiors.
Commandos now share abilities, however each individual enjoys an unequalled skill.
New characters – Lupin, the 'Thief', Natasha, the 'Seductress', and 'Whiskey', the dog have joined the Commandos team.
Team members are also now able to carry and exchange objects and weapons.
Drive a variety of new vehicles, including jeeps, tanks, trucks, ships, boats and cars. All of the vehicles are based on real models from WWII: a "Willys" jeep, a "Panzer III" tank, a "Mercedes L3000" truck to name a few.
New enemy AI behaviour that provides deeper and more engaging gameplay.
More Action! Faster paced gameplay, but still requiring careful planning and execution of every mission.
Multiplayer modes