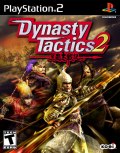 TITLE Dynasty Tactics 2
GENRE Strategy
PLATFORM PS2
DEVELOPER KOEI
US PUBLISHER KOEI
UK PUBLISHER TECMO KOEI Europe
NORDIC PUBLISHER TECMO KOEI Europe
ONLINE PLAY No
Media Screenshots:
SCREENS ADDED: 07 Oct-2006
Official Fact Sheet:
The Dynasty Tactics series chronicles the turmoil that took place after the fall of China?s Han Empire. The civil war that followed was a dagger into the heart of China. Bandits, warlords, and legions of mercenaries ravaged the once noble land, and ripped the empire into three warring states. On those battlefields, the heroes of the Three Kingdoms were born. Part strategy, part puzzle game, Dynasty Tactics 2 is a turn-based Tactical Simulation game where players must annihilate enemy armies by forming chain reactions of high-intensity tactical maneuvers. In Dynasty Tactics 2, players assume the role of a general seeking to unite the warring states of China?s legendary Three Kingdoms.
In Dynasty Tactics 2, the almighty Lu Bu joins the roster of playable characters, while all of the playable characters from the original Dynasty Tactics return with compelling new stories. With three times more tactical maneuvers than the original, Dynasty Tactics 2 enhances the original ?Tactics Linking System? with a new ?Sequenced Strike System.? Taking advantage of the ?Sequenced Strike System,? a single military unit is capable of launching a devastating offensive using up to ten ?Tactical Combo? links.
Players can now obtain new tactics at ?tactics training camps? located throughout the game. Furthermore, players can raise their own armies, acquire tactics for subordinate officers, or employ ?Alliance Tactics? by establishing relations with other commanders.
At the end of each stage, Dynasty Tactics 2?s new Points Evaluation System grades a player?s performance based on several criteria including: ?complete defeats? and ?number of tactics linkages.? At the conclusion of a game, the player?s Martial arts, Ingenuity, and Leadership abilities are also scored.