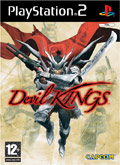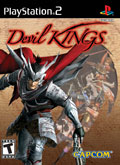 TITLE Devil Kings
GENRE Action
PLATFORM PS2
DEVELOPER Capcom
US PUBLISHER Capcom
UK PUBLISHER Capcom
NORDIC PUBLISHER Capcom
ONLINE PLAY No
Media Screenshots:
SCREENS ADDED: 16 May-2005
Official Fact Sheet:
In Devil Kings, players assume the role of various warriors who must lead their hero into a succession of hostile confrontations against an onslaught of opponents. The action explodes on-screen when awesome "critical moves" are performed on the battlefield as players plow through enemy hordes. Unleash the special powers from within to bombard those who stand against you with ruthless attacks or summon a powerful storm of fiery meteors and watch them explode in a whirlwind of destruction. Using experience points earned during combat, gamers can level up their characters' personal attributes and weapons. There are over 80 special items to find and unlock in hidden treasure chests located throughout the game. It's up to the player to build up their heroes, collect items, and carve a new path to victory and ultimate domination.
Roster of unique playable heroes ? Control a variety of legendary warriors including ninjas, spear-wielding masters and dual gun slingers
Signature moves ? Perform special attack moves that are specific to each fighter; summon a storm of flaming meteors or brandish six swords at once to slice and dice the enemy with lighting fast speed
Level-up system ? Use the experience points earned during battle to level-up a character's attributes
Unlockable features ? By meeting certain conditions, gamers can unlock new items and characters