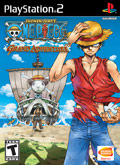 TITLE One Piece Grand Adventure
GENRE Fighting
PLATFORM PS2
DEVELOPER Ganbarian
US PUBLISHER Namco Bandai
UK PUBLISHER N/A
NORDIC PUBLISHER N/A
ONLINE PLAY No
Media Screenshots:
SCREENS ADDED: 28 Jun-2006
Official Fact Sheet:
Pirates! Set sail! Weigh anchors! Depart for the Grand Line, where battles and adventure await! One Piece, the popular comic and anime series featured in Shonen Jump, 4KidsTV and Cartoon Network, comes back to the console world with One Piece: Grand Adventure for the PlayStation 2 and GameCube. The series features Monkey D. Luffy as an aspiring pirate searching for One Piece, the legendary treasure of King of the Pirates, Gold Roger.
One Piece: Grand Adventure brings back the fun and excitement of the free-moving Vs. Battle action from past One Piece games with exciting new twists. The game also has been completely revamped with the inclusion of an engrossing Adventure Mode, sending players on mini-game filled quests for extended replayability. With the latest main and support characters, new moves, and stages, this is the ultimate One Piece game!
Establish your own Pirate Group in Adventure Mode: Experience a pirate?s adventure as you choose among a vast assortment of characters to create your very own band of roving pirates. Take rivals like Luffy and Crocodile or even Chaser and Buggy the Clown and put them all into your very own pirate dream team. Navigate through over 20 ocean area maps, as you do battle with powerful enemies old and new while searching for treasures in this Grand Adventure!
Experience a variety of gameplay in Adventure Mode: In addition to the one on one Grand Battles, mob battles, sports, shooting and races keep the game fresh for hours.
Updated cast of characters: Play along with the cartoon series as new characters from the tv show join the crew in the digital world. Up to 24 main characters including new characters such as Trace, Princess Vivi, Tashigi, and more join the adventure.
Search for additional support characters: One Piece: Grand adventure brings a roster of 50 supporting characters and a new support character system to add to the chaos of the battle!
Evolution of the grand battle: The Accel-Heat System adds another layer to the exciting battle by giving the player the opportunity to pull off special attacks straight from the cartoon series.