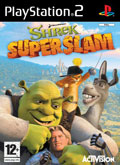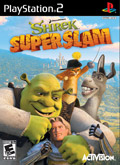 TITLE Shrek Superslam
GENRE Action
PLATFORM PS2
DEVELOPER Shaba Games
US PUBLISHER Activision
UK PUBLISHER Activision
NORDIC PUBLISHER Activision
ONLINE PLAY No
Media Screenshots:
SCREENS ADDED: 21 Sep-2005
Videos:
Official Fact Sheet:
Shrek SuperSlam pits the characters from the Shrek franchise against each other in the only game that combines the twisted humor and pop culture parodies of the Shrek universe with the fast-paced action of a melee fighting game. Signature fighting moves like Shrek?s ?Green Storm,? Donkey?s ?Juggle Punt,? and Puss-in-Boots? ?Love-Stun? bring variety and personality to the game. Fully destructible arenas like the Poison Apple Inn and Dragon?s Gate have walls toppling and debris flying while a multitude of weapons, potions, and magical items spell endless melee action for up to four players.
Play the whole motley crew – Gamers choose to play as one of 20 fantastical characters from the movies – including heroes like Shrek, Donkey, Puss-in- Boots, and Princess Fiona?, and villains like Prince Charming, Cap?n Hook, and many more. So many favorite characters, including some all new for the game, makes for endless combinations of multiplayer action. (10 characters on Nintendo Game Boy? Advance, 13 on Nintendo DS?)
Enjoy a buffet of irreverence – Players relive the twisted humor of the world of Shrek as characters deliver taunts and jokes and farcical environments parody TV shows, movies, and other pop culture icons.
New signature moves – Shrek?s gaseous ?Green Storm? clears the room, Puss-in-Boots? disarming ?Love-Stun? sweeps opponents off their feet and Pinocchio wields his lengthened nose, the ?Spear of Truth,? to dive-bomb enemies. These are among the game?s totally twisted and hilarious signature fighting moves. (Characters? moves vary between console and handheld)
Fully destructible environments – Players can hurl opponents through walls and windows and throw debris at their opponents. All 16 arenas are totally destructible and loaded with weapons, potions, magical items and environmental hazards. (10 arenas on Game Boy Advance)
Pummel your friends – Up to four players can slam it out in multiplayer, free-for-all melee combat.
Hocus Pocus – Characters can pick up 30 different weapons, potions, and magical items throughout the game to pound opponents with the Giant Ham Hock, become a battering ram with the Horned Viking Helmet, increase quickness with the ?Speed of the Gato? potion, or enjoy many other unique power-ups. (25 items on Game Boy Advance and Nintendo DS).
Mega Challenges – Players slam through over 30 mini games that test skills and fray nerves. (25 mega challenges on Game Boy Advance and Nintendo DS)
Touch-screen and map on Nintendo DS – On the Nintendo DS, players can touch the screen to collect weapons and potions or to navigate the arenas using a detailed overview map.