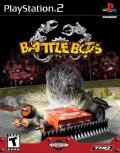 TITLE BattleBots
GENRE Action
PLATFORM PS2
DEVELOPER Warthog
US PUBLISHER N/A
UK PUBLISHER N/A
NORDIC PUBLISHER N/A
ONLINE PLAY No
Media Screenshots:
SCREENS ADDED: 16 Apr-2006
Official Fact Sheet:
BattleBots is based on the popular, adrenaline-pumping TV show of the same name pitting contestant-designed, radio-controlled robots against each other inside a high-tech arena equipped with hazardous obstacles such as kill saws and giant sledgehammers. The BattleBots show is currently in its fourth season and averages more than 3.5 million viewers per week.
Players start the game with a small amount of money to build their own BattleBot in Simulation Mode, or in Arcade Mode, they can choose from original or existing BattleBots seen on the show. As the players progress through tournaments, more money is earned to collect additional BattleBot components for upgrades. Players can also test their mettle and play against up to four friends in an all-out multi-player brawl.
Three Intense Modes of Gameplay
Simulation Mode ? Emulates the TV series in terms of tournament structure and arenas (hazards, real locations, etc). Player build their own bot and progress through the weight classes by winning battles against bots from the TV series
Arcade Mode ? Choose from bots you created or bots from the show and compete in battles in wide-open arenas with power-ups
Multi-player Mode? Metal mayhem ensues when up to four players battle in one arena. Play a 3-player or 4-player league to win the coveted ?BattleBot Champion? title and trophy
Build your own BattleBot ? Construct your own bot by purchasing components and weapons such as saws, crushers or flamethrowers. Customize your creation with paint, decals or accessories such as flags or bug eyes
Variety of BattleBots to choose from ? Choose from 40 different BattleBots in varying weight categories (Light Weight, Middle Weight, Heavy Height, Super Heavy Weight), including bots seen on the TV show (e.g. Minion, Nightmare and Enforcer), and new original bots
20 BattleBox Arenas of Destruction ? BattleBox arenas include the hazards and weapons such as Pulverizers, Kill Saws, and Hell Raisers, as well as new original hazards and arena weapons