PS2 Games
TOCA Race Driver 2 (AKA PRO Race Driver 2)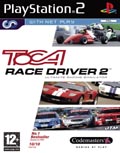 TITLE TOCA Race Driver 2 (AKA PRO Race Driver 2)
GENRE Racing
PLATFORM PS2
DEVELOPER Codemasters
US PUBLISHER Codemasters
UK PUBLISHER Codemasters
NORDIC PUBLISHER Codemasters
ONLINE PLAY Yes
Media Screenshots:
SCREENS ADDED: 02 Sep-2004
Official Fact Sheet:
Featuring brand new content exclusive to PlayStation 2, TOCA Race Driver 2 will arrive with a whole new circuit, Catalunya, and an expanded Championship structure allowing 99 additional car and track combinations. There's also a super hardcore "Pro-Sim mode" for ultimate realism ? if you can handle it! Again, exclusively for PlayStation 2, gamers will also be able to save replays, and really drive that victory home to their mates.
TOCA Race Driver 2 boasts the most diverse range of powerful motor sports ever seen in one game. 35 of the world's most powerful big-name racing and street cars will feature in 33 championships covering 15 different motor racing styles including GT Sports Car Racing, Street Racing, Rally, DTM, V8 Supercars, Global GT Lights, Rally Cross, Formula Ford, Open Wheel Grand Prix, Classic Car Racing, Super Truck racing, Stockcar Oval Racing, Ice-Racing, Convertible Racing, and Performance Cars.
The game features 52 racing circuits including the world famous Laguna Seca, Surfers Paradise, Euro Speedway, Donington Park, Kyalami and Road America circuits.
The PlayStation 2 edition of TOCA Race Driver 2 is constructed completely from the ground up by Codemasters' renowned TOCA development team. The game runs at a silky smooth 60 frames-per-second, and with up to an incredible 21 drivers on track at the same time, just trying to stay in contention can be challenge enough.
With unique adaptive AI that changes to suit your level of racing expertise, the computer-controlled drivers are no pushover: they'll fight to hold their line, try to out-brake and out-manoeuvre you, and even carry grudges over from race to race!
There's classic TOCA damage, too. Thanks to a hugely realistic damage engine and the most advanced physics ever seen in a racing game, get too cosy with another car or a trackside barrier and it could be back to the starting grid for you. And there are no fake 'resets' to miraculously restart you back on your way, "Race Over" means just that, but only for that race. The save system in TOCA Race Driver 2 saves after every event, so you'll only have to re-run that one race in order to progress.
The evolution of Codemasters' 5-million selling TOCA series, offering the most diverse range of motor sports ever in one game.
33 championships covering 15 different motor sports.
35 of the world's most powerful racing and street cars fully simulated ? including Aston Martin (V12 Vanquish, DB7 and DB5), Jaguar (XJ220, XKR and E-Type), Ford (Mustang Cobra R, Ford GT, GT90, F-150 SVT Lightning, Falcon BA), Holden Commodore VY, Mitsubishi 3000 GT, Mitsubishi EVO 7, Subaru Impreza WRX, ABT-Audi TT-R, Opel Astra V8 Coupe and AMG-Mercedes CLK.
31 global race locations and 52 world renowned tracks
Incredible pack racing: up to 21 cars on track at once, battling for position.
A stunning new visual engine running 60 frames per second graphics.
The most sophisticated physics and car handling engine yet.
All new and hugely realistic damage engine.
Online play for up to 8 players.
Storyline drives progression through the Championships.