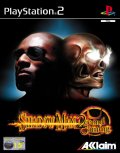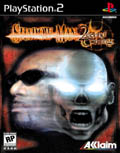 TITLE Shadow Man: 2econd Coming
GENRE Action
PLATFORM PS2
DEVELOPER Acclaim Studios
US PUBLISHER Acclaim
UK PUBLISHER Acclaim
NORDIC PUBLISHER Acclaim
ONLINE PLAY No
Media Screenshots:
SCREENS ADDED: 31 Jan-2002
Official Fact Sheet:
Developed by Acclaim Studios Teesside, Shadow Man: 2econd Coming marks the return of Mike LeRoi, an undead demon-hunter on a twisted voodoo journey through the darkest recesses of the soul. In Shadow Man: 2econd Coming, players assume the role of both LeRoi and his "Deadside" alter ego, Shadow Man, as they battle the Grigori, a group of sadistic demons that have been masquerading as humans for the past 2000 years. Players must use all of their cunning and strength to defeat the Grigori, who are trying to rescue their leader Asmodeus, from the Pit. If successful, destruction of biblical proportions will befall humanity. However, the one man that is standing between life and eternal darkness is Shadow Man.
30 hours of haunting gameplay;
Epic storyline filled with thrills, chills and twists, which are unveiled to the player though both scripted in-game events and dynamic cinematics;
Third-person horror adventure, featuring multiple routes and the combination of platform, combat, stealth and puzzle-based gameplay;
In-game transitions between day and night, each filled with unique actions and abilities;
Real-time weather effects, including rain, snow and the ability to flood game locations;
Rule-based reactive artificial intelligence, allowing enemies to realistically respond to actual in-game events;
Six seamlessly connected game locations, each massive with numerous sub areas;
Ambidextrous gameplay, enabling thrills for right- and left-handed players;
"Save anywhere" functionality, allowing players to save their game whenever they want.