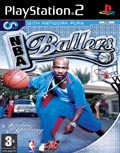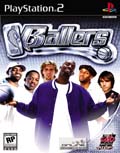 TITLE NBA Ballers
GENRE Sport
PLATFORM PS2
DEVELOPER NetherRealm
US PUBLISHER Midway
UK PUBLISHER Midway
NORDIC PUBLISHER Midway
ONLINE PLAY Yes
Media Screenshots:
SCREENS ADDED: 16 Apr-2006
Official Fact Sheet:
NBA Ballers features current NBA stars such as Tracy McGrady, Chris Webber and Kobe Bryant, and NBA Legends including George Gervin, Magic Johnson and Wilt Chamberlain. NBA Ballers online for PlayStation 2 enables gamers to take on the world in online tournaments and ladder challenges while they risk everything from licensed cars to mansions to other ballers that they've collected in winning games. By focusing on the one-on-one match-ups, Midway Sports Asylum is able to build each and every NBA baller and NBA Legend with his specific skill set in mind. Shaq will own the paint, Larry Bird will be raining three-pointers and Iverson will be breaking ankles with his killer crossover. With more than 5,000 polygons per player and facial motion-capture technology, no basketball videogame has ever given the gamer more realistic looking players than NBA Ballers.
The explosive soundtrack found in NBA Ballers features hip-hop, Rand'B and a hip-hop/rock mix with in-game commentary by World Freestyle Champion rapper MC Supernatural and on-the-court beats by DMC Champion DJ Rocky Rock.
Additionally, new facial animation technology provides the most accurate NBA player facial expressions, including mouth movements that sync-up with in-game audio to reproduce recognizable words from players' mouths while stylized player models deliver unmatched realism and detail to the game. Each player model features the athletes' realistic body style based on actual height and weight.
Lifestyle One-on-One Basketball. Only the freshest of the NBA and NBA Legends ball for cars, houses and, most importantly, the reputation as the top NBA baller. Compete in one-on-one tournaments hosted by some of the biggest NBA stars. Compete against multiple competitors in one-on-two, one-on-three and special rules matches.
Online B-Ballin' (for PlayStation 2 only).Play as your favorite baller and take on the world in online tournaments and ladder challenges as in-game cash, cars and glory await the victor.
60 Current NBA Stars and 24 NBA Legends. Take control of your favorite players such as Vince Carter, Allen Iverson, Chris Webber, Shaquille O'Neal, Jason Kidd, Kobe Bryant and more. NBA Legends featured include Larry Bird, Magic Johnson, Julius Irving, Bill Russell, Jerry West and Wilt Chamberlain among others.
Realistic Player Attributes and Skills. Each NBA baller and NBA Legend has more than 10 different off-the-hook skills, which determines their player rating, creating a genuine representation of each NBA superstar's mad skills.
In-Depth Create-A-Player Mode. Ball as the best! Personalize the game by hooking-up a player with the skills and attitude to take on the best ballers in the NBA. Select from multiple hairstyles, body types, on-court attitudes, gear, shoes, jewelry, planes, cars and your own posse to construct the ultimate one-on-one baller.
Stunning Player Art and Animation. From cornrows to afros, one-on-one gameplay allows unparalleled player animation sets, delivering an incredible level of detail and nuances not found in other basketball videogames. Watch players' realistic reactions to intense dunks and amazing blocked shots, whether they perform the move or get embarrassed by it.
"Welcome to NBA Ballers! The show takes you inside the spectacular lives of the players as they battle to determine, in intense one-on-one authentic gameplay, who is the best baller in the world."
Multiple Game Modes. Take your player from "Rags to Riches" by building your own mansion with winnings, or battle through a ballers tournament to unlock your favorite NBA star and discover his moves, or try to make it through a season in the league, or survive "Last Man Standing" team mode.
Featuring in-game commentary by champion freestyle rapper MC Supernatural and on-the-court beats by the renowned DJ Rocky Rock.
Explosive Soundtrack — Features hip-hop, Rand'B and a hip-hop/rock mix.
Amazing 3D Player Models. Set to each player's height, weight, body size and athletic ability based on real life.

New 36-point Facial Animation Technology. The most accurately detailed player faces and expressions.

6,000 Poly-Count Player Models. The highest number of polys of any basketball videogame available.
Exclusive Midway Sports Asylum Fantasy Lifestyle Courts Fully detailed and structured with beautiful lighting effects and images. Animated sideline characters react to the action on the court in real-time!
Lifestyle courts include: Play at Vince Carter's "Toronto penthouse," Jalen Rose's "luxurious Lake Michigan yacht," or Tim Duncan's "pad in the Virgin Islands."