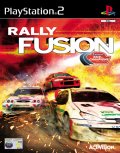 TITLE Rally Fusion: Race of Champions
GENRE Racing
PLATFORM PS2
DEVELOPER Black Rock Studio
US PUBLISHER Activision
UK PUBLISHER Activision
NORDIC PUBLISHER Activision
ONLINE PLAY No
Media Screenshots:
SCREENS ADDED: 30 Jul-2002
Official Fact Sheet:
Experience a new dimension in rally driving. Engine screaming, hair raising action and super-realistic features put you in the driving seat. Now you can:
Flip your pro-rally car, smash your screen, pile headlong into a tree. And walk away.
Scare the hell out of your co-driver
Trounce your mates in multi-player mode
Grind, slide and skid your way through 20 tracks and 9 huge environments including rain forests, arctic glaciers, desert dunes and tropical islands
Check out up to 20 kick-ass cars including Peugeot, Mitsubishi, Ford and Audi
Show over 30 world-class drivers from past and present how to drive
Players must put their skills to the ultimate test as they battle it out of for the ?Race of Champions? crown
THE CARS: There are a total of up to 20 different vehicles in the game each with their own unique handling and statistics that affect their speed, acceleration, braking, steering. These are divided into 3 distinct categories which become unlocked as the game progresses:-
Class C – This level of difficulty consists of a range of smaller cars, including both classic rally and more up to date cars: Ford Escort Mk 1, Opel Kadett, Toyota Rav 4, Formula France, RoC Buggy
Class B – This level of difficulty consists primarily of cars that have featured in the World Rally Championship throughout its history: Ford Escort RS Cosworth, Peugeot 206, Toyota Celica GT4, Lancia Delta Integrale, Peugeot 306, Toyota Corolla, Mitsubishi Lancer Evo VI, Seat Cordobra
Class A – Also more widely known as Group B cars. This level consists of cars that are no longer eligilble for the World Rally Championships due to the fact that have are so powerful that most of them have been banned at some point:Audi Quattro, Opel Manta, Saab 93 Turbo, Lancia 037, Peugeot 205, Lancia Stratos
Desert Heat – A high-speed rally course that runs through the blistering heat of a dry, hot landscape.
Arctica – A treacherous course that leads cars through one of the most challenging environments.
Inca – A wet course set in a tropical rainforest. Consisting almost entirely of muddy trails, this course is very slippery.
Ocena – Situated on a beautiful tropical island, formed from volcanic rock.
Canyon Fire – An intense high-speed circuit that runs through a dramatic canyon environment.
Alpine Climb – One of the most dangerous courses, situated within the mountains of a popular ski resort where one wrong move could send you off the edge of the mountain.
Gran Canaria – A parallel track which sets two cars against each other in a thrilling head-to-head race.
Metro – Set inside a huge park in the middle of a city.
Stadium – A unique event set in a gigantic stadium with thousands of spectators cheering you on.
Race of Champions Mode – This mode allows players to enter the annual ?Race of Champions? Tournament. Players can work alone or join forces in a team to try to win two competitions ? Champion of Champions or the Nations Cup. There are 3 levels of difficulty ? Intermediate, Advanced and Professional and progression happens through these stages.
RoC Challenge Mode – This mode allows players to compete through a series of competitions. Players will be prompted to enter a driver profile which will then record the players progress throughout the game, as well as recording a range of data across the tracks like fastest lap, biggest jump, biggest crash. There are also 3 levels of difficulty: Class C, Class B and Class A. During the course of the challenge mode, the player will be awarded trophies for winning challenges, with some special ones thrown in aswell including ?Wrecker? ? first car wrecked, ?Veteran? ? over a certain mileage, ?King of the Hill? ? winning all the hill climb challenges. There are a range of challenge types that are unlocked over time in accordance with the players success:
Rally Challenge – Features a single car driving around a circuit for a number of laps
Circuit Challenge – Features up to 4 drivers racing around a circuit for a number of laps
Rally Cross Challenge – Features up to 4 drivers racing through a rally course
Driving Challenge – Pits drivers against the clock in an attempt to record the best times on an obstacle course full of challenges
Hill Climb Challenge – Features a single car traversing a dangerous mountain road in an attempt to record the best time ? without falling off the mountain !
Elimination Challenge – A up to 4 driver knockout challenge that takes place on both circuits and rally stages. At each checkpoint on the course, the last place driver is eliminated
Follow the Leader Challenge – Each driver has a health-bar that depletes whenever the driver is not in the lead resulting in a constant fight for first place and survival to the end
Head to Head Challenge – A race between 2 drivers in identical cars around a range of courses including circuits and rally stages
Race of Champions Challenge – A knockout tournament where players race in identical cars around a parallel track which takes place over 3 heats of head to head racing
Quick Race – Quick Race allows the player to go straight into the action and is perfect when you want to play multiplayer with friends. Initially your Quick Race options will be restricted to a selection of cars, tracks and challenges with more being unlocked as the player progresses. Quick Race options cover the following:
Rally – Feature a single car driving through a rally course in an attempt to record the fastest time
Rally Cross – Features up to 4 drivers racing through a rally course in an attempt to finish first
Circuit – Features up to 4 drivers racing on a circuit track in an attempt to finish first
Elimination – Up to 4 driver knockout challenge on both circuit and rally stages ? at each checkpoint the last player is eliminated
Extreme Hill Climb – Combination of a hill climb track with the bumper to bumper race format of Rally Cross ? more cars means more chances of falling off the edge of this treacherous course ? first to the top or furthest distance traveled wins
Follow the Leader – Each driver has a health bar that depletes whenever the driver is not in the lead ? a constant fight for first place and survival to the finish line
Relay – Raced between two teams of up to 4 drivers each, at the end of each lap drivers must stop their cars in a special zone, only once this has been done can the next driver in the team take over
Checkpoint – A timer is introduced at each of the course?s checkpoints ? its old fashioned arcade style gameplay as the player races across the course trying to beat the clock
Custom Championship – A highly powerful tool that allows players to create their own unique championships which features multiple event types. This championship can be competed in both single and multiplayer modes
World Tour Mode – A long distance endurance challenge in which players have to beats the clock across 4 different locations, a continuous clock is kept across all of the tracks and players have to cross each checkpoint before the time runs out. Car damage plays a crucial role in this mode as too much damage early on will effect the players abiity to meet the checkpoint in time
World Tour Extreme Mode – This time the player is racing against other cars ? there is no longer a timer at each checkpoint, instead each car?s times are recorded and accumulated across the event and the winner is the driver with the lowest overall time
Class C Drivers: This level of drivers consists mainly of people for who rally driving is not their chosen form of motor racing, consisting mainly of motorbike and sports car drivers
Class B Drivers: This level of difficulty consists of skilled rally drivers who have spent several years racing in rally events
Class A Drivers: This level of difficulty consists of what are considered to be some of the finest rally drivers to have ever competed in rally sport