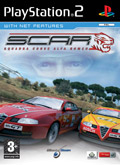 TITLE SCAR: Squadra Corse Alfa Romeo
GENRE Racing
PLATFORM PS2
DEVELOPER Milestone
US PUBLISHER N/A
UK PUBLISHER Black Bean Games
NORDIC PUBLISHER Black Bean Games
ONLINE PLAY No
Media Screenshots:
SCREENS ADDED: 17 Mar-2005
Official Fact Sheet:
For the first time in a racing game, players must improve their skills as drivers instead of modifying their cars, making the ability to match a set of skills to the different requirements of each competition just as much an important part of winning the race.
In addition to choosing their favourite Alfa Romeo, players will be given the opportunity to choose their own race gear which will best improve their performance, as well as tune the levels of each of their different skills which will include: reflexes, hand-eye coordination, and their ability to cope with the stress of racing high speed circuits. Another unique skill is the Tiger Effect, which will give drivers the ability to turn back time and correct any potentially dangerous mistakes.
In SCAR, AI competitors are also based on a complex combination of skills and features which come together to form an opponent best adapted to the cars, course, and player, giving rise to countless alternative outcomes. The actual skill system is based on nine different abilities, divided into three tiers of experience. Skill sets include:
Heart: Increases driver's basic health capacity (Driver Condition).
Vision: Increases Tiger Effect capacity for Driver.
Intimidation: Ability to intimidate other drivers and cause them to make mistakes.
Handling: Improves effective vehicle grip and Driver's ability to handle the car
Acceleration: Increases overall acceleration and reduces gearshift time.
Recovery: Reduces effects of vehicle crashes and effects.
Focus: Allows Driver to reduce Condition damage to car and self.
Anticipation: Improves the Tiger Effect's duration and potency.
Endurance: Driver's basic healing rate. Improves Driver Condition regeneration rate.