PS2 Games
Shin Megami Tensei: Lucifer's Call (AKA Shin Megami Tensei: Nocturne)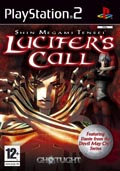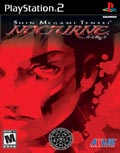 TITLE Shin Megami Tensei: Lucifer's Call (AKA Shin Megami Tensei: Nocturne)
GENRE RPG
PLATFORM PS2
DEVELOPER Atlus
US PUBLISHER Atlus USA
UK PUBLISHER Ghostlight
NORDIC PUBLISHER Ghostlight
ONLINE PLAY No
Media Screenshots:
SCREENS ADDED: 06 Sep-2004
Official Fact Sheet:
Shin Megami Tensei: Nocturne is actually the third game in the series, which first appeared on the Super Famicom. Remakes of the first two titles were recently released in Japan for the PlayStation and Game Boy Advance. While Nocturne continues the series' tradition of a modern-day post-apocalyptic setting, demonic overtones and mature themes, the PlayStation 2 version brings it into the next-generation of gaming with mind-blowing graphics and refinement of the gameplay system.
Set in post-apocalyptic Tokyo, the game begins as nearly the entire population of the world is annihilated by a global catastrophe called the Conception. Now, the fate of the entire world lies on the shoulders of one boy, who must battle his way through opposing demonic forces and shape the world to come… or destroy it.
Yesterday's foe is today's ally! Persuade over 100 different demons to join your party. Some demons may evolve into new forms on their own or fuse them to form even more powerful demons.
Customize your character with Magatama, living parasites that grant the host demonic powers!
Depending on the choices you make, you'll follow one of several ideologies which will ultimately determine the fate of the entire world!
Special guest appearance by Dante, from Capcom's Devil May Cry series. Will he become your most feared enemy or your greatest ally?
Over 50 hours of gameplay!