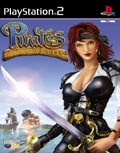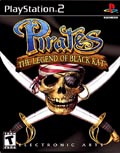 TITLE Pirates: The Legend of Black Kat
GENRE Action
PLATFORM PS2
DEVELOPER Westwood Studios
US PUBLISHER Electronic Arts
UK PUBLISHER Electronic Arts
NORDIC PUBLISHER Electronic Arts
ONLINE PLAY No
Media Screenshots:
SCREENS ADDED: 30 Aug-2005
Official Fact Sheet:
Take to the high seas as fearless pirate captain Katarina de Leon, known as "The Black Kat." Take command of a variety of pirate ships, from the simple gunboat to a massive Man O War. Discover and explore dangerous and fantastic island worlds. Develop Kats swordfighting skills, mastering the dagger, cutlass and saber to defeat evil pirate bands, loot their treasures and seek revenge against the evil Captain Hawk, fulfilling her destiny.
Meet Katarina de Leon, the "Black Kat" of the high seas! Katarina de Leon is the proud, athletic daughter of an island governor and his pirate mistress. This fire-haired lass has sailing and swordfighting skills beyond compare and unflinching bravery in the face of extraordinary dangers.
Epic Sea Battles Command the awesome firepower of 12 exciting pirate vessels from history and legend. Experience the shredding of every sail and awesome impact of every cannonball through your dual shock controller. Customize your craft with a wide range of items, including chain shot, black powder kegs, stink pots, cannons, rare magical weapons, and more. Accelerate to ramming speed and send your enemy to the briny deep.
Explore and Plunder Exotic Island Worlds On every horizon is a unique island chain daring you to come ashore, from the Frozen Wasteland to the Voodoo Isles. Liberate the island towns from Captain Hawks evil clutches to create safe harbors for your next voyage. Battle or befriend witch doctors, mermaids, mythical beasts, spirits, skull apes and more.
Fast-Paced Sword Fighting Sequences Press the battle with two-handed combo moves or power up Kats "Dance of Death" to shred enemies in every direction. Find new magic blades that earn new, devastating attacks for Kat to deal with her foes.
Innovative Battle Mode An innovative battle mode allows for ship to ship combat with a friend for bragging rights and loot. Defeat his mighty galleon with your lowly schooner to earn unique and rare collectible treasures. You and your dastardly foe will find a vast array of watery arenas to battle in, custom-designed with island chains to sail around, dangerous traps to avoid and treacherous obstacles to worry about.