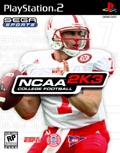 TITLE NCAA College Football 2K3
GENRE Sport
PLATFORM PS2
DEVELOPER Visual Concepts
US PUBLISHER SEGA of America
UK PUBLISHER N/A
NORDIC PUBLISHER N/A
ONLINE PLAY No
Media Screenshots:
SCREENS ADDED: 01 Jan-2006
Official Fact Sheet:
SEGA Sports NCAA College Football 2K3″ backs up great looking player models and animations with All-American pigskin action and custom playbooks packed with the exciting plays and formations seen only in the high-flying, hard-hitting collegiate game. "NCAA College Football 2K3" recreates the college atmosphere like never before – from the field, including plays like the wishbone and other triple option formations, to the sidelines, with cheerleaders and mascots, to the stadium, with fight songs and enthusiastic student rooting sections, and to the presentation, enhanced with a completely new ESPN broadcast system. Behind the scenes, it's big-time pressure as you assemble your team from the country's top high school prospects, prepare in a rigorous, off-season Spring Practice session and endure a competitive Division I-A schedule. Three ranking systems – the Writers Poll, Coaches Poll, and BCS Standings – track your team's progress throughout the season and determine which teams will be invited to participate in the 25 post season bowl games. Strive for perfection and the spoils of gridiron success are yours – the Heisman trophy, a NCAA Championship and your shot at campus immortality.
ESPN Broadcast Presentation – True to the sports fan–replays, scores and more are displayed in the famous ESPN style.
New "College Look" Player Models and Detailed Animations – Finally, NCAA football players with the proportions and physiques of college-aged athletes.
Awesome List of Schools and Squads – Choose from more teams than ever before including: All 117 Division I-A Teams and select Division I-AA Teams.
Comprehensive Legacy Mode – Assemble your football program from the ground up and build a Division I-A powerhouse.
Gamers will be able to save graduating seniors from "NCAA College Football 2K3" and draft them into "NFL 2K3."
Roster and Ratings Editor – New player names appear on the backs of their jerseys and their skills and attributes are fully customizable.
Authentic Ranking Systems – Track your team's performance and its shot at the National Title with the Writers Poll, Coaches Poll and BCS Standings.
25 Bowl Games – Compete in the post-season classics including all four major bowl games.
Enhanced In-Stadium Effects – Surround yourself with an electrifying campus experience with Pep Bands playing university fight songs, and cheerleaders and mascots with hundreds of motion-captured moves.
Complete 2002 NCAA Schedules for every Division I-A team.
Accurate 2002 Division I-A Rosters and Ratings from the experts at CollegeFootballNews.com.