PS2 Games
Pirates of the Caribbean: At Worlds End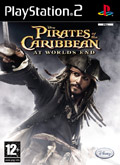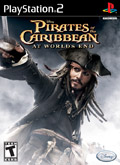 TITLE Pirates of the Caribbean: At Worlds End
GENRE Action
PLATFORM PS2
DEVELOPER Eurocom Entertainment
US PUBLISHER Disney Interactive Studios
UK PUBLISHER Disney Interactive Studios
NORDIC PUBLISHER Disney Interactive Studios
ONLINE PLAY No
Media Screenshots:
SCREENS ADDED: 09 May-2007
Videos:
Official Fact Sheet:
Live and die by the sword! Pirates of the Caribbean: At World?s End is inspired by the events, environments and characters surrounding the second and third installments of the Pirates of the Caribbean franchise. Players must demonstrate their cunning, swashbuckling creativity and swordsmanship as they encounter all manner of crazed pirates and cursed creatures in treacherous, exotic locations. Play as the eccentric Captain Jack Sparrow, Will Turner and Elizabeth Swann to prevent Jack?s dark past from catching up with him.
Enjoy sword-assisted acrobatics, adaptive combat and classical dueling in unique gameplay. Experience the Pirates of the Caribbean world in never-before-seen detail, going beyond the films? events and storylines to introduce new locations, an extended story, legendary pirates and a unique ending.
Notoriety ? Jack?s fame as a pirate increases as he strikes fear and admiration into the hearts of his pirate brethren
Control Captain Jack Sparrow ? Take advantage of situations as Jack would, playing to his unique character, wit and guile
Intelligent Swordplay ? Adaptive swashbuckling with intense dueling and acrobatic interaction requiring flamboyant creativity
Challenge Mode (PlayStation 2 system) ? Available in both single and multiplayer mode, players can test their pirating skills in Combat, Combos and Looting
Action ? Experience an exciting world of swordplay, environmental acrobatics, and Pirate shenanigans
Exhaustive Unlockables ? New moves, secret characters, inventory items, weapons and secret locations
Wii Remote (Wii) ? Pointing and motion sensing capabilities heightens the intensity of swashbuckling with each move