PS2 Games
Delta Force: Black Hawk Down – Team Sabre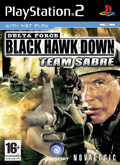 TITLE Delta Force: Black Hawk Down – Team Sabre
GENRE Tactical
PLATFORM PS2
DEVELOPER Novalogic
US PUBLISHER Novalogic
UK PUBLISHER Ubisoft
NORDIC PUBLISHER Ubisoft
ONLINE PLAY Yes
Media Screenshots:
SCREENS ADDED: 21 Nov-2006
Official Fact Sheet:
As a part of the US Army's elite special operations forces, you are the first line of attack for covert operations around the world. From the war torn streets of Somalia, you have been redeployed to take out targets in Colombia and Iran. Organize your team's attacks on various single-player maps and multiplayer battlefields. Wage war over the Internet in five new environments and 30 multiplayer game types. More than 50 players can face off over a local network, and you'll need cunning tactics and expert gunplay to dominate the competition.
TWO ALL NEW SINGLE PLAYER CAMPAIGNS ? Embark on 11 challenging missions through treacherous South American jungles and across the high deserts of Iran. Insert by Black Hawk into enemy territory, fight your way through a mountain stronghold and pursue the enemy through hostile oil fields.
NEW WEAPONS, SQUAD COMMANDS AND CHARACTERS ? Select from 24 weapons to maximize your effectiveness in battle, including two never before seen weapons in the Black Hawk Down series; the MK-23 SOCOM and the L115A sniper rifle. Take command of the world's most elite Special Forces teams ? Delta Force and the British SAS ? and order your squad mates to lay down suppressive fire or execute a flanking maneuver on the enemy.
NEW MULTIPLAYER WARFARE ? Join in the action in intense fire fights with up to 32 players online and seven unique game types including new variants and old classics. Persistent statistic tracking allows you to follow your progress as you rise through the ranks. Battle it out with up to four of your friends in split-screen or work together against a common foe in cooperative play. With 24 multiplayer maps to choose from and voice-over-net for immediate battlefield intel, prepare for battles that are even more intense than the original Black Hawk Down.