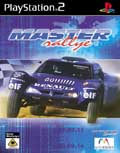 TITLE Master Rallye
GENRE Racing
PLATFORM PS2
DEVELOPER Steel Monkeys
US PUBLISHER N/A
UK PUBLISHER Microids
NORDIC PUBLISHER Microids
ONLINE PLAY No
Media Screenshots:
SCREENS ADDED: 16 Oct-2005
Official Fact Sheet:
Master Rallye is a completely unique, fast paced off-road race game based upon the FIA rally event of the same name. The game features licensed vehicles and officially endorsed special stages and a wide variety of game modes to allow casual, arcade, and simulation levels of play.
Each rally stage follows off-road routes and allows the driver to find shortcuts from A to B in an extremely wide environment. The player can risk off-track navigation to find the best shortcuts to accomplish their goal ? as long as they finish first! Each stage is tested and approved by the legendary Master Rallye designer Rene Metge ? himself a triple Paris Dakar winner.
Incredibly wide race environments ? over 30 stages of up to 9sqkm of track. Players can find their own shortcuts and potentially get lost.
The game's advanced physics model uses tyre contact patch and surface properties to truly reflect the performance of the vehicle on the ground. This gives unrivalled feel and control to the driver.
AI competitors are individually modelled
Stunning visual effects.
Experience the adrenalin of a challenging off-road race ? the driving experience is brought to life for the player with clever use of cameras and footage to maximise replays, including slow motion replays, motion blur and a huge view distance from observer to horizon.
Enjoy the thrill of the race – the AI engine has been improved and finely tuned and the PS2 AI competitors push up the ante even further with their realistic handling, skilful overtaking and unpredictable behaviour. AI competitors can seek the most advantageous path across terrain, taking into account impassable objects, ground surface quality and other moving vehicles.
Feel the superior handling of the vehicles – the cars have been physically modelled to include accurate simulation of several vital features including; tyre contact patch, discrete surface friction and quality, 18 degrees of freedom suspension set-up, aerodynamic drag and down force, gearbox and limited slip differential, and engine and' driveshaft inertia.
Interactive scenery maximises the potential enjoyment to be found in the off road driving experience. For example, hay bales, checkpoint markers, rocks and bushes that roll and move when hit.
To further enhance the landscape, we have a runtime procedural object technique that is capable of rendering thousands of automatically placed objects, such as clumps of grass and stones, brushes and twigs near the camera, fading them off into the distance. This adds great depth to the scene and really adds to the level of realism. These effects also heighten the sensation of speed in the game for the player.
Features full screen anti-aliasing and motion blur @ 60Hz / 32bit colour and 4-pass rendering of terrain for additional detail. Decoupled rendering allows game code to run asynchronously with display frequency without associated frame drop. Also features edge-accurate collision involving a large number of high resolution convex bodies and (typically 60,000 triangle) environment @ 60Hz.
The dynamic front end uses background FMVs to show track select and real race footage and players can visit the car showroom to select their vehicle. There has been a deliberate effort to give a real console feel to the front end of the game.