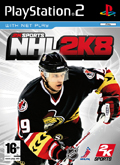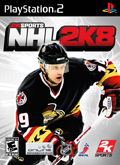 TITLE NHL 2K8
GENRE Sport
PLATFORM PS2
DEVELOPER Visual Concepts
US PUBLISHER 2K Sports
UK PUBLISHER 2K Sports
NORDIC PUBLISHER 2K Sports
ONLINE PLAY TBA
Videos:
Official Fact Sheet:
The top rated NHL franchise returns with an entirely NEW NHL EXPERIENCE featuring revolutionary gameplay controls, all-new goaltending, and stunning next-gen visuals highlighting redesigned player models and animations.
ProStick – Completely free 360? range of motion can now be easily performed in ALL areas of the game including puckhandling, dekeing, passing, shooting, poke checks, clogging passing lanes, laying the stick to ice, and even in a new face-off system! With hundreds of new animations, ProStick gives gamers the ultimate look, feel, and control over their favorite NHL players.
All-NEW Face-Off System – Under the supervision of '06 MVP Joe Thornton, a whole new approach to hockey game face-offs places emphasis on timing and strategy. Using the ProStick?, properly position your player's stick to swipe at the puck and win critical late game face-offs. With tie-ups, warns, and toss outs, this is the most in depth face-off system ever.
All-NEW Goaltending – Goaltending has been completely overhauled with instinctive AI, entirely new animations, and situation specific behaviors. Goaltenders will now come out and challenge, guard the post, perform spectacular butterfly saves, and much more!
NHL Signature Style – Totally redesigned player models with accurate equipment brands and updated player faces bring you the most realistic hockey game to date. Coupled with an entirely revamped Edit-a-Player mode that allows you to modify every facet of your hockey players' appearance including stick and leg tape patterns!
Deeper Franchise – THE DEEPEST franchise mode in the business, now complete with realistic CBA features such as waivers, two-way contracts, restricted and unrestricted free agents, and salary cap management. Also including a revamped off-season that boasts a brand new negotiation system, an improved draft, refurbished free agent signing, and an All-NEW player progression system with dynamic player types!
2K Sports Online – Now with over 1 MILLION online gamers in the 2K community, go head-to-head against the best players on the planet and enter for your chance to win an ALL NEW Dodge vehicle in the NHL 2K8 Dodge Tourney!