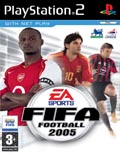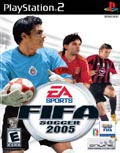 TITLE FIFA Football 2005
GENRE Sport
PLATFORM PS2
DEVELOPER EA Sports
US PUBLISHER Electronic Arts
UK PUBLISHER Electronic Arts
NORDIC PUBLISHER Electronic Arts
ONLINE PLAY Yes
Media Screenshots:
SCREENS ADDED: 16 Jan-2007
Official Fact Sheet:
Great soccer players need a great first touch-and the same is now true for gamers with FIFA Soccer 2005. Using an all-new fluid player kinetic system, a player's first touch becomes a key advantage for players who can think quickly and act fast to outsmart the competition. An all-new animation system reacts to every button press with authentic responsiveness, directly translating to the speed and vision of the world's greatest players.
With more than 350 official team and league licenses from around the world, more than 12,000 officially licensed players, an enhanced Career Mode, and EA SPORTS Online play* (PlayStation 2 console only), FIFA Soccer 2005 is the only complete, authentic, and intelligent soccer experience.
A Great Player Needs a Great First Touch: A quality first touch-intrinsic to the sport itself-is the essential trait that separates good players from great players on the soccer pitch. Improved button and control sensitivity provides an authentic first touch for users of FIFA Soccer 2005. Using the fluid player kinetic system, soccer's most important skill has been revamped to give the most responsive and rewarding control system to date.
Added Gameplay Depth: Off the Ball? Control is fine tuned and better than ever in FIFA Soccer 2005. Take command of players not in possession of the ball by calling in tackles, jostling for space, and sending your teammates on runs as you control the pitch. Movement on throw-ins has also been added to enhance authenticity.
The Absolute Broadcast: With new in-game camera angles, smooth cut sequences for replays, and improved contrast and lighting for players and stadiums, FIFA Soccer 2005 has the look and feel of an authentic television broadcast experience. Add in authentic crowd chants from officially licensed stadiums-both large and small-and FIFA Soccer 2005 offers the most immersive experience available.
Deeper Career Mode: FIFA Soccer 2005's deep Career Mode tests your skills both on the pitch and in the front office. Build your franchise and guide your club to the Championship.
The World's Ultimate Roster: More than 350 official team and league licenses from around the world-including 20 leagues and 40 national teams-and more than 12,000 licensed players are available. From the fast pace of Europe's super leagues to up-and-coming teams in the lower divisions, FIFA Soccer 2005 provides the most authentic selection of the world's top teams, players, and environments.
EA SPORTS Online: EA SPORTS Online for the PlayStation 2 console allows users to play online against opponents from around the country. An online lobby area allows gamers to meet, greet, chat, set up tournaments, download roster updates, and play FIFA Soccer 2005 head-to-head. Make it to the top, and then try to maintain your place as the best gamer anywhere, anytime, anyplace.