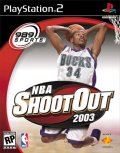 TITLE NBA ShootOut 2003
GENRE Sport
PLATFORM PS2
DEVELOPER 989 Sports
US PUBLISHER SCEA
UK PUBLISHER N/A
NORDIC PUBLISHER N/A
ONLINE PLAY No
Media Screenshots:
SCREENS ADDED: 16 Apr-2006
Official Fact Sheet:
Featuring eight modes of gameplay including Exhibition, Season, Playoffs and Career as well as new highlights like Career Mode which allow players to put their name and number on the floor with the pros, NBA ShootOut 2003 replicates all the high-flying action of the NBA. The new player models are ultra-realistic as each player features animated texture-mapped faces from authentic NBA photos, accurate body styles down to players? tattoos, and optional customizing features including goggles, head, wrist and armbands. NBA ShootOut 2003 also sports a new Create Dunk feature that will have gamers fabricating unique jams with influences from the most famous dunks in basketball.
NEW ? Player Models have been sculpted from four different skeletal frames for ultrarealistic body styles. Each player features animated texture-mapped faces from authentic NBA photos, unique head shapes, skin tones, tattoos and optional goggles, head, wrist and armbands.
Developmental League (NBDL) – Players work on their game playing in the officially licensed NBDL and wait for the call-up to the "show." ? NEW ? Create Dunk will have gamers fabricating unbelievably unique jams with bits and pieces of the most famous dunks in basketball.
NEW ? Authentic NBA Environment including animations for three on-court referees and television cameramen.
Refined Gameplay and' Restructured AI brings fast-paced NBA realism to a whole new level. The computer better manages passing, the clock, fouls and timeouts and is sure to take advantage of any of your miscues or tendencies.
18 1-Touch Player Controls include Screen, Auto Defend, Pump Fake, Special Dribble and more. You won?t get bogged down with cumbersome controller combinations as more advanced controls have also been simplified for quicker and better player movements.
Network-Style Presentation now features a two man-booth. More than 100 hours of play-by-play from Ian Eagle is now complimented with commentary from Bill Walton.
Playbooks Designed with Consultation From NBA stars include more than 450 teamspecific plays and sets that replicate every team in the NBA. NBA players consulted include: Stephon Marbury, Chris Webber, Jason Kidd, Jerry Stackhouse, Paul Pierce, Robert Horry and more.
NBA Signature Animations from more than a dozen NBA stars. Motion-captured animations include all aspects of the game including dribbling through traffic, passing, shooting, rebounding and more than 50 signature dunks.
Hot and Cold Streaks will affect the game just like the pros. Hit three consecutive shots to put a player in the zone. Miss three consecutive and you?ll have trouble hitting from the paint.
Create Player utilizes player ratings to create an all-world talent or design a player to reflect your own characteristics.
Extensive Roster Management allows you to edit your starting line-up, trade players or release and sign free agents to build your dynasty.