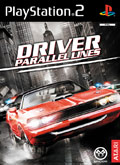 TITLE Driver Parallel Lines
GENRE Racing
PLATFORM PS2
DEVELOPER Reflections
US PUBLISHER Atari
UK PUBLISHER Namco Bandai Partners (Atari)
NORDIC PUBLISHER Namco Bandai Partners (Atari)
ONLINE PLAY Yes
Media Screenshots:
SCREENS ADDED: 22 Dec-2005
Videos:
Official Fact Sheet:
Driver: Parallel Lines is the next installment of Atari's legendary franchise action driving game. As the only game that offers an open, fast-paced driving action-movie experience, Driver: Parallel Lines features an unfolding storyline of double crossing and revenge. Set in a photorealistic interpretation of New York City, players take on the role of a notorious 18 year old who, free from conscience and rules, is the most sought after driver-for-hire in town. Get down and dirty in cars of all kinds. Modify and juice up cars before engaging in the most thrilling Hollywood-style car chases ever. With over 40 diverse missions, online multiplayer options, incredibly realistic driving physics, and a brand new story with an unforeseen twist, Driver: Parallel Lines is a must-have title for action driving fans.
Driver: Parallel Lines is an entirely new story with over 40 diverse missions as well as on-the-fly mini-games such as destruction derby and cops and robbers
Pulse-pounding, non-stop driving action with Hollywood-style car chasing experiences
On-line play that supports up to eight players in numerous play modes that span the entire city
Highly intuitive character control, improved physics and an expansive arsenal of weaponry
An incredibly detailed photo-realistic New York City 'living world' city to explore
Seamless open mission structure integrated around the central storyline with no load times what-so-ever
Incredible vehicle damage system with unprecedented detail and level of destruction
80 drivable vehicles including cars, bikes and trucks, each with authentic physics; features comprehensive vehicle tuning with performance and visual customization