PS2 Games
Dancing Stage Max (AKA Dance Dance Revolution Extreme 2)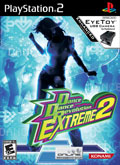 TITLE Dancing Stage Max (AKA Dance Dance Revolution Extreme 2)
GENRE Music
PLATFORM PS2
DEVELOPER Konami
US PUBLISHER Konami Digital Entertainment
UK PUBLISHER Konami Digital Entertainment GmbH
NORDIC PUBLISHER Konami Digital Entertainment GmbH
ONLINE PLAY Yes
Media Screenshots:
SCREENS ADDED: 01 Aug-2005
Official Fact Sheet:
Dancing Stage is renowned for its incredible mixture of music styles, and Dancing Stage Max features an incredibly strong array of music talent. New tracks include 'These Words' by Natasha Beddingfield, Franz Ferdinand's 'Michael' and 'In the Middle' by the Sugababes. Classic pop acts are also well represented with 'Goody Two Shoes' from Adam and the Ants, 'You Sexy Thing' by Hot Chocolate, and Lulu's 'Shout.'
The new game modes have been designed to offer users a concentrated challenge, with the new 'Dance Master Mode' leading the line. This sets the player a series of small tasks each set to music, with players selecting a soundtrack before being asked to match certain targets to earn points. Similarly, Dancing Stage Max's 'Advanced Mode' is aimed at experienced fans of the game, with four different game styles unlocked as the player progresses. These include the classic 'Course' and 'Endless' modes from previous games wherein players play against a single tune or until a gauge is exhausted.
Also unlockable via the 'Advanced Mode' are the 'Survival' and 'Combo Challenge' Modes, both of which are extremely hard to master. In 'Survival' mode players are charged with continually scoring highly in the game. If they drop to a 'Good' or lower rating more than four times they are disqualified. The 'Combo Challenge' also ups the ante, with players charged with performing long combinations of moves – and if the combo ends, so does the game!
Dancing Stage Max also makes use of Sony's innovative Eye Toy? USB camera to put the player on screen or use particular images as backdrops to the action. It can also be used to play a Hands and' Feet version of the game where you must use your hands as well as your feet!.Other bonuses include the ability to accrue points which can be used to buy new tracks, costumes for the on-screen dancers or even tips for prolonged play.