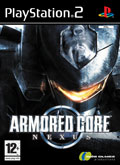 TITLE Armored Core: Nexus
GENRE Action
PLATFORM PS2
DEVELOPER From Software
US PUBLISHER Agetec
UK PUBLISHER Nobilis
NORDIC PUBLISHER Nobilis
ONLINE PLAY Yes
Media Screenshots:
SCREENS ADDED: 01 Jan-2005
Official Fact Sheet:
Armored Core: Nexus? two-disc package includes: disc one, titled ?Evolution?, which is comprised of entirely new material one would expect from a true sequel; and disc two, titled ?Revolution?, which revisits Armored Core?s past with graphically overhauled missions from previous titles, as well as a huge selection of player-earned secrets (music, movies, and artwork) associated with other games in the series.
Time has long since passed since humans came out of the underground shelters. The Organization of Controlling Corporations (OCC), which was founded in order to begin reconstructing society, quickly loses its power as stability returns to the land. But the intention of the OCC is anything but benign. Realizing the power that could be had in controlling the planetary resources, the OCC quickly launches into action a plan that will erupt in civil war and completely destabilize society for their own evil gain.
Dynamic Action – Considerable refinement of the game?s engine makes Armored Core: Nexus the most realistic title in the series yet. The player?s sense of participation has been improved by providing a wider diversity of destructible objects, accentuating variations in speed, enhancing combat-related details, and including a more robust suite of sound effects.
Open-Ended Assembly – AC unit customization, a core element of all the games in the series, has also been addressed. Players now have access to over 400 different parts that can be used to construct literally millions of different AC designs. Weapons and parts have been completely redesigned from the previous titles and new part types have been added, thereby allowing longtime users to build completely new AC designs.
Mission Environments – Just as with its predecessors, Armored Core: Nexus offers players complete freedom of movement in a fully 3D polygon space. New to the series is Nexus? ?active mission? feature, which takes into consideration a player?s in-mission actions in order to determine how they advance through the game. This allows the player to become more immersed in the adventure and derive a better sense of cause and effect.
Multiplayer Options – Quite possibly the series? most popular feature, head-to-head multi-play is included with the title and enables up to four players to compete against one another using either i.LINK or for the first time ever LAN.