PS2 Games
ESPN International Winter Sports 2002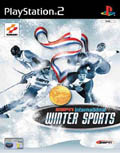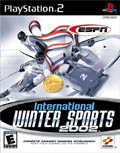 TITLE ESPN International Winter Sports 2002
GENRE Sport
PLATFORM PS2
DEVELOPER Konami
US PUBLISHER Konami Digital Entertainment
UK PUBLISHER Konami Digital Entertainment GmbH
NORDIC PUBLISHER Konami Digital Entertainment GmbH
ONLINE PLAY No
Media Screenshots:
SCREENS ADDED: 13 Mar-2005
Official Fact Sheet:
Boasting 10 fast-paced events such as Downhill Alpine Skiing, Freestyle Mogul Skiing, Speed Skating, Bobsledding and more, ESPN International Winter Sports 2002 is fully-loaded. Cut through the gates at death-defying speeds in the slalom or bust some big air ski jumping as ESPN International Winter Sports 2002 provides the ultimate gaming experience for the most timid snowbunnies to adventurous hot dogs alike. Featuring two challenging modes and total ESPN integration.
Events Loaded With Attitude and Altitude – Participate in any one of 10 amazing, fast-paced events including Downhill Alpine Skiing, Slalom Skiing, Bobsledding, Snowboarding, Ski Jumping, Freestyle Mogul Skiing, Speed Skating, Figure Skating and Curling.
Get Your Game On – Compete in several different and challenging modes. The Trial Mode allows players to select events with aspirations of gold and record-smashing in mind. In Championship Mode , the hardest level of difficulty, players pick one country and compete in all events with the hopes of becoming a hometown hero.
It is A Global Village – Represent one of eight countries from around the world including the United States, Japan, England, France, Germany, Italy, Canada and Holland to bring home some nationalistic pride. Performance characteristics and abilities vary between each country.
Go Head-to-Head — Utilize the games two-player split-screen mode to go head-to-head for an in-your-face demonstration of speed and skills.
Cool, Clean and Crisp – Vivid detailed graphics bring all the highs and lows of winter sports to life. See the spray of snow in the Alpine Slalom or the shimmer of the ice in the treacherous Bobsled run.