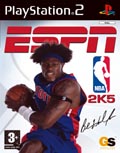 TITLE ESPN NBA 2005
GENRE Sport
PLATFORM PS2
DEVELOPER Visual Concepts
US PUBLISHER SEGA of America
UK PUBLISHER Take 2
NORDIC PUBLISHER Take 2
ONLINE PLAY Yes
Media Screenshots:
SCREENS ADDED: 16 Dec-2004
Official Fact Sheet:
To dominate in the Association, one must be able to create, reinvent, and evolve their game to overcome all opponents and obstacles. Staying the course is a formula for mediocrity, and setting the path ultimately leads to success. Re-introducing the king of the court, ESPN NBA 2005 will change the way we experience the virtual basketball game forever with a host of new graphical and gameplay improvements never before seen in sports videogames. Let the next movement begin.
The Next Movement ? A new momentum based gameplay system that gives gamers a complete difference in control between various types of players.
Now a player?s ability and physical make-up will determine how fast they can run up the court on a fast break, how well they can cut to the basket off their opponent, and more – creating a new level of realism and natural team movement.
Visual/Graphical Supremacy ? Graphical realism has never come this close with new lighting effects, hyper-realistic court reflections, self-shadowing on the players, and the most lifelike player faces and expressions – gamers will think they?re sitting on the courtside seats!
Reactive Court Sense ? Pioneering a new standard in artificial intelligence, computer-controlled players now have the ability to decide independently how they can best help their team and realistically react based on each human players? actions. CPU players determine the best way they can help win in accordance with each team?s philosophy and distinct play sets.
24/7 ? One of the most innovative features in sports games gets twice as big with over 100 new items, new timed mini games, and multi-player games. New respect level determines which NBA baller will answer your call for 24/7 games.
Presented by ESPN ? New press camera angles, follow cams, and stat overlays all in the style of the worldwide leader in sports. The captivating Michelle Tafoya reports from sidelines while Hall of Fame legend Bill Walton dissects the action.
Play Online ? 24/7 multi-player, real-time stats, buddy lists, and friend connection updates, all add to our seamless online play for the ultimate community experience.