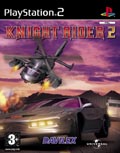 TITLE Knight Rider 2
GENRE Racing
PLATFORM PS2
DEVELOPER Davilex
US PUBLISHER N/A
UK PUBLISHER To Be Announced
NORDIC PUBLISHER To Be Announced
ONLINE PLAY No
Media Screenshots:
SCREENS ADDED: 20 Oct-2004
Official Fact Sheet:
Knight Rider 2 will address much of the customer feedback received on the first Knight Rider game as well as add many new features, which will improve the gameplay dramatically whilst maintaining the authentic atmosphere of the series. Knight Rider 2 will contain more action, in-game animations, special effects and dialogue than its predecessor. In addition to the gameplay elements of chase, race, explore and puzzle, Knight Rider 2 will also offer two complete new games modes: Combat and Mini Games.
As in the first Knight Rider, the player will play K.I.T.T. and must use all the unique features that this famous car was capable of in order to successfully complete missions. Whether its driving in ski-mode in narrow alleys, utilizing night vision to see where others can not, chasing the bad guys with incredible speed by activating the Turbo Boost or scanning buildings to analyse a situation, Knight Rider 2 will still offer all the thrilling features associated with the original K.I.T.T. car of the TV series.
In Knight Rider 2, KITT is now also capable of Combat mode which will raise the gameplay element significantly with the player using different car-based weapons to fight off robots, armoured vehicles and of course Garth, Michaels evil twin-brother and arch enemy. Mini Games such as Dirt Track Racing and The Shooting Gallery add to the excitement and fun. These Mini Games may be unlocked by successfully completing certain missions.
Furthermore, new tracks and environments, some with unconventional surroundings, will definitely add to a fantastic gaming experience. In this second game, players will be able to immerse themselves in the world of Knight Rider playing out numerous action packed missions providing hours upon hours of fun. A multi-player mode will allow breathtaking split-screen action between two players.