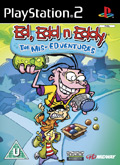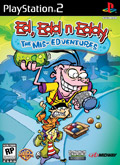 TITLE Ed, Edd n Eddy: The Mis-Edventures
GENRE Action
PLATFORM PS2
DEVELOPER Artificial Mind And Move (A2M)
US PUBLISHER Midway
UK PUBLISHER Midway
NORDIC PUBLISHER Midway
ONLINE PLAY No
Videos:
Official Fact Sheet:
The Ed, Edd n Eddy videogame allows players access to all three Eds at once, using each character's wacky abilities. Experience all of the outrageous fun in an interactive version of the show!
Control all three crazy characters at the same time and swap the lead character on the fly to take advantage of each of the Eds' unique abilities
Execute special all-Ed formations like the Trampol-Edd, Tower-of-Eddy and Batter-Ed
Experience the slapstick humor, frantic pace, crazy art direction and outrageous fun of the show
From selling snowcones to collecting jawbreakers, players must complete scam objectives to explore and unlock new areas of the game
Meet all your favorite characters from the show, including Sarah, Jimmy, Jonny 2×4 and Plank, Kevin, Nazz, Rolf and of course…the Kanker Sisters!