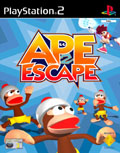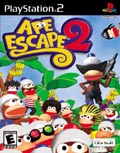 TITLE Ape Escape 2
GENRE Action
PLATFORM PS2
DEVELOPER SCEI
US PUBLISHER Ubisoft
UK PUBLISHER SCEE
NORDIC PUBLISHER SCEE
ONLINE PLAY No
Media Screenshots:
SCREENS ADDED: 02 Aug-2002
Official Fact Sheet:
The Professor, away on a trip, leaves a video message for Hikaru, telling him to transport a large delivery of monkey pants to Monkey Park. Hikaru accidentally manages to include a number of Peak-Point Helmets with the pants. Peak Point Helmets and monkeys don't mix: they increase their intelligence and give them ideas above their station. Needless to say, as soon as Specter, the monkey leader, puts a Peak Point Helmet on, he starts hatching plans for world domination, to make a society fit for monkeys to live in, and declares war on humans. Meanwhile several other monkeys also don the helmets and escape from Monkey Park. Hikaru is scolded by Natalie for allowing this to happen, and ordered to catch all the monkeys.
As soon as you complete a stage, you'll be able to load that stage at any time and try to better the time it took you to complete it, with the Time Attack mode.
In addition to the 20 main levels, there are eight different bosses to fight on their own, specially designed levels. Tougher and more complex than the boss fights in the first game, each requires special methods and tactics to be defeated. Five of the battles will be with the Wooky Five – Specter's gang of monkey goons – another with a Wooky transformed into a gigantic version of himself, and two will be showdowns with the evil Specter.
As well as the nine monkey-catching gadgets from the first game, (such as hoops, nets and stun clubs) Ape Escape 2 has three new fabulous objects to help you in your ape-hunting escapades. All three have multiple uses:
The Water Pistol puts out fires, can be used to drive items in the game (such as the windmill) and even repairs damaged vehicles.
The Banana Boomerang acts like monkey fly-paper: they're attracted to its smell, but then get stuck to it. It can also hover in the air, emitting sweet monkey-attracting scents, be used as a weapon and to retrieve difficult-to-reach objects.
The Magnetor attracts metallic objects, can steal metal items from an enemy and is so powerful it can even lift whoever's wielding it toward heavy metallic objects.
In addition to the boats and tanks from the first game, you now have new vehicles to help you in the new environments, including a nippy snowmobile for the freezing wastes, a miniature submarine for underwater exploration and your very own robot – always handy for robot fighting.