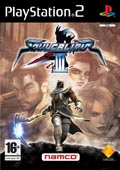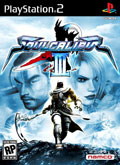 TITLE Soulcalibur III
GENRE Fighting
PLATFORM PS2
DEVELOPER Namco Bandai
US PUBLISHER Namco Bandai
UK PUBLISHER Namco Bandai
NORDIC PUBLISHER Namco Bandai
ONLINE PLAY No
Media Screenshots:
SCREENS ADDED: 19 May-2005
Official Fact Sheet:
The unholy sword was sealed by the destined one, but a mysterious individual revives the azure knight, Nightmare. The legendary battle of Soul Calibur and Soul Edge moves to the next phase. Which sword will ultimately prevail? What is the motivation of the three new souls who join the fray? And how will you, the player, become involved in the world of SOULCALIBUR?
Play as one of your favorite classic characters to follow how their fate unfolds in the Tales of Souls mode. Battle it out against your friends in the Vs. Standard mode. Create your own original character to play in the Character Creation mode. Rise in the ranks in the World Competition mode… Play it any way you want. Get ready for the latest installment of the most dramatic weapon-based fighting franchise on the PlayStation 2.
Customizable characters: Create your own character after you or the ideal warrior you've always wanted to be. Choose the sex, occupation, look and even a weapon for your own original character.
Your original character is the star: The Chronicles of the Sword mode allows your original customized character to play through a mode much like real-time simulation – you can see your own character in the battles that unfold.
3 Brand new characters! Zasalamel, Tira and Setsuka wield their specialty weapons to join the classic cast for a total of over 25 characters.
More stages than before: Battle it out in more stages than ever, from a castle in Germany to a shrine in Greece, or even at the top of a clock tower.
…and more! Get ready for the battles by training in the Practice mode; enjoy unique battles in Soul Arena mode; view the history of the franchise and everything you've unlocked in Museum mode – the variety of modes will keep you playing!