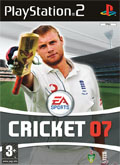 TITLE EA Sports Cricket 07
GENRE Sport
PLATFORM PS2
DEVELOPER EA Sports
US PUBLISHER N/A
UK PUBLISHER Electronic Arts
NORDIC PUBLISHER Electronic Arts
ONLINE PLAY TBA
Media Screenshots:
SCREENS ADDED: 01 Nov-2006
Official Fact Sheet:
Thanks to the groundbreaking EA SPORTS Century Stick control system, batting has become more intuitive, responsive and rewarding than ever. For the first time in a cricket game, players can enjoy full control over foot choice, shot, direction, power and timing, all governed through the use of both analog sticks. A back or front foot stroke is selected with the left stick, then shot timing and direction are judged with the right stick. Power is determined by how far the stick is moved ? a slight tap can nudge the ball for a quick single or a firm push can send the ball fizzing away to the boundary. Allied to new cameras that deliver a more natural behind-the-stumps batting perspective and a wider view of the field, cricket has never been so easily accessible. With embellished gameplay, a wealth of tournaments, genuine equipment and authoritative new commentary from Mark Nicholas and Richie Benaud, you won't experience cricket this authentic without donning whites and walking down the pavilion steps yourself.
Groundbreaking Control: Use the intuitive dual analog Century Stick batting system to select foot choice, shot direction, power and timing. With button controls to loft shots and advance down the track, you're free to crack a full array of shots all around the wicket. Success with the bat also relies upon your batsman's individual skills, allied with his confidence level. A confident batsman maximises his potential to time his shots sweetly ? maintaining high confidence can make or break his ability to build a big innings.
New Cameras: Innovative views from behind the batsman offer a realistic batting perspective, and a reworked Broadcast camera gives you a wider view of the play for more authentic coverage.
Quickplay Cricket: Play cricket your way by setting your own pace. Crank up the game speed, ease back the difficulty setting and revel in the razzmatazz of Limited Overs or fully-licensed Twenty20 extravaganzas by playing a fast-blast match of hard-hitting sixes ? or slow the pace down, slide the difficulty up and steel yourself for a five day Test.
Greater Depth: A new picture-in-picture display with a shot timing gauge coupled with a running assistance indicator and radar help you make those snap decisions out there in the middle. On-the-fly Dynamic Field Positioning and Quickswitch bowling give you the ability to ratchet up the pressure on the batsmen by changing the field and the bowler's line of attack without a break in play.
Tournament Options: Lead this year's eagerly anticipated 3 mobile Ashes campaign Down Under, replay the legendary 2005 npower Test Series or unlock a stack of rewards by accomplishing Ashes challenges. Take part in the frenzy of the fully-loaded, fully-licensed English and Australian One Day blitz of extreme Twenty20 cricket, dive into a complete schedule of Australian State and English County tournaments, tour the world, win the World championship or compete for glory in Test matches and One Day Series games with all the top cricketing nations of the world.
Authentic Content: For the first time in an EA SPORTSTM Cricket title, renowned bat manufacturers Gray-Nicolls, Puma, Slazenger, Kookaburra and Gunn and' Moore bring their weight of authenticity to the day's play. Relish the big game atmosphere with new broadcast visuals, wicket textures and astute new commentary from the masterly broadcast team of Mark Nicholas and Richie Benaud as you play out a nail-biter against the faithfully realised backdrop of a legendary international venue or a cherished domestic ground.