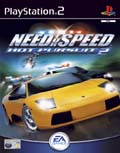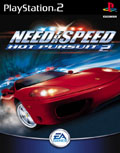 TITLE Need for Speed Hot Pursuit 2
GENRE Racing
PLATFORM PS2
DEVELOPER EA Black Box
US PUBLISHER Electronic Arts
UK PUBLISHER Electronic Arts
NORDIC PUBLISHER Electronic Arts
ONLINE PLAY No
Media Screenshots:
SCREENS ADDED: 24 Jun-2002
Official Fact Sheet:
Need for Speed (NFS) is back and better than ever in spectacular PS2 detail in Need For Speed: Hot Pursuit 2! Engage in the next generation thrill of arcade racing with the spiritual successor to the highly acclaimed, award winning NFS III: Hot Pursuit.
Need For Speed: Hot Pursuit 2 stays true to the heritage of housing a stable of exclusive and exotic cars from the worlds most coveted licensors including Ferrari, Porsche, and Lamborghini, to name a few.
Staying true to its award-winning legacy, Need For Speed: Hot Pursuit 2 will deliver an exciting, intense arcade driving experience. The game includes a variety of open road environments that truly come to life, consisting of river crossings, waterfalls, beach surf, dusty paths, brush fires.
With over 12 courses, some of which include extreme weather conditions-hurricanes, tornadoes, blizzards and downpours, provide the widest variety of driving challenges. Animated drivers and cops give life to the drivers within the game, bringing added emotion to the world of these unattainable super cars.
Become the "Ultimate Road Racer" by winning numerous racing events, all carrying various rewards such cars, tracks, upgrades, paint jobs, game modes and Easter eggs. The game challenges the driver to dodge traffic, police and natural elements in high speed and high style, true NFS style. Evade any cops encountered, as getting busted just might end your career.
The AI for the opponent racers and the police will further immerse you into the ultimate exotic car fantasy where you can drive these cars at their limit or get caught trying. Opponent racers and the police have distinct and unique driving styles challenging the player to learn arrest patterns in order to beat the cops and win the race. Cops will even be given different personalities that the player will learn to recognize.
More than 20 of the most coveted licensed exotics rendered in awesome PS2 detail complete with animating in-game drivers
A variety of modes including Hot Pursuit and Championship mode
Dynamic lighting and real world reflections bring the cars and tracks to life
Realistic, detailed environments that push the emotion engine by bringing to life elements from the real world -rain, blowing leaves, sun beams and dust storms
Maneuvering through traffic and police at breakneck speeds puts you on the edge of your seat
Piloting virtually unattainable cars neck in neck with other exotics will stir the soul
Dodge traffic at upwards of 200 mph while running at 60fps
Open world environment to allow for "edge of your seat" off-road moments on shortcuts
Advance your career to "Ultimate Road Racer"
Clear reward path with: upgraded cars, new courses, new race modes and more
Multiplayer support