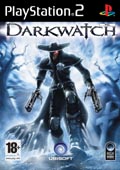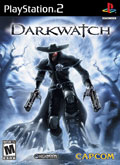 TITLE Darkwatch
GENRE FPS
PLATFORM PS2
DEVELOPER Sammy Studios
US PUBLISHER Capcom
UK PUBLISHER Ubisoft
NORDIC PUBLISHER Ubisoft
ONLINE PLAY No
Media Screenshots:
SCREENS ADDED: 13 May-2004
Videos:
Official Fact Sheet:
Darkwatch is a mysterious secret society that has protected humanity from evil since the dawn of civilization. Their newest and most deadly agent is Jericho Cross, an outlaw gunslinger pulled into their ranks after an unfortunate close encounter with a vampire lord. As the one responsible for unleashing the vampire and his minions on the West, Jericho must use his new vampire powers to hunt him down to prevent the American Frontier from being overrun by the undead, and to save his own soul from eternal damnation.
Darkwatch promises a cinematic video game experience with remarkable game play variety in a FPS. With Jericho's supernatural abilities, mysteriously advanced weaponry, shattering melee attacks unique to each weapon, armed vehicles and a deadly demon steed, players lay waste across a Wild West infested by Vampires and other supernatural creatures. Darkwatch introduces a dynamic reputation and experience system where the choices the player makes lead to different paths and supernatural vampire abilities. The experience is further enhanced with location-specific damage, letting players tear apart the undead, and innovative use of Havok physics for dynamic objects that can be improvised as weapons.
First ever Vampire Western game – Blast through a frightening re-imagination of the Wild West with exceptional art and design work inspired by both Vampire-Horror and Western genres
Different modes of play ? Darkwatch features a deep, single player story driven adventure along with adrenalin-fueled multiplayer combat: two player split screen versus and co-op mode on PlayStation 2, and up to 16 players online via Xbox Live
Cinematic experience – Explosive FPS action framed by a cinematic storyline
A diverse arsenal of "Darkwatch-enhanced" weapons – Take the "un" out of "undead" in a variety of ways with a wide assortment of weapons including rapid-fire handguns, dual-wielding pistols, rifles, shotguns, crossbows, rocket-launchers, dynamite and even weapon-specific melee attacks
Dynamic game play- Experience non-linear missions and a dynamic enemy reputation and experience system that affects player abilities and game outcome
Unique weapons, powerful assault vehicles, horse-mounted gun fighting and special vampire abilities bring new depth to FPS gameplay in both single and multiplayer mode
Location-specific damage and physics powered by Havok bring precision and realism to gunplay ? tear the undead to pieces, blow off their heads, shoot out their feet from under them, or practice your aim on countless interactive environment objects