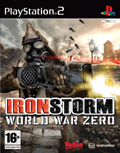 TITLE World War Zero: Iron Storm
GENRE FPS
PLATFORM PS2
DEVELOPER Rebellion Software
US PUBLISHER N/A
UK PUBLISHER Wanadoo Edition
NORDIC PUBLISHER Wanadoo Edition
ONLINE PLAY Yes
Media Screenshots:
SCREENS ADDED: 16 May-2003
Official Fact Sheet:
Ungenberg is now masterminding a Russo-Mongolian Empire and is determined to sweep across the globe, crushing all in his path ? while intelligence reports indicate he is also close to completing an atomic device. A coalition is hastily formed and, as Lieutenant James Anderson, the player is charged with infiltrating a series of Ungenberg's strongholds in a danger-filled attempt to undermine his efforts.
World War Zero is first-person-based gameplay thus offers the best possible view of its stealth and combat-based action. Using a mixture of covert and combat skills, the player must go behind enemy lines and pass through the devastated Germany where Ungenberg and his powerbase is located. As such, missions take the player from the Western Front, through the Anton Denikin Russo-Mongol front, into the occupied Wolfenburg and ultimately into the Berlin-based fission centre where the Baron's experiments are nearing their conclusion.
Standing between Anderson and his targets, however, are World War Zero's incredibly detailed array of enemy soldiers and agents. The Baron's agents, Kazakh Troops and Siberian Forces all benefit from differing AI and abilities, while the threat of gun turrets, mines, gas attacks and trench battles truly conveys the horrors of a first World War battleground. Thankfully, Anderson is equipped with his trusty silenced Heckler and Koch MP-6, while additional and authentically-modelled weapons such as a Remington M910 shotgun, fragmentation and smoke grenades, plus sniper rifles can be collected along the way.
With its incredibly realistic environments, stunning enemy AI and gripping plot, World War Zero: Ironstorm is one of the most remarkable first-person titles to grace Sony's PlayStation 2. The brutality of war is perfectly detailed, while the horrors of a timeline where The Great War has stretched into its fiftieth year create an atmospheric title that sets new standards within the action genre.