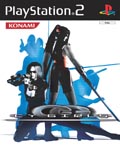 TITLE Cy Girls
GENRE Action
PLATFORM PS2
DEVELOPER Konami
US PUBLISHER Konami Digital Entertainment
UK PUBLISHER Konami Digital Entertainment GmbH
NORDIC PUBLISHER Konami Digital Entertainment GmbH
ONLINE PLAY No
Media Screenshots:
SCREENS ADDED: 27 Aug-2003
Official Fact Sheet:
This intense action game is set within a dangerous futuristic world that will take players on a wild adventure around the globe and through cyberspace. Playing as either 'Ice' or 'Aska', gamers will lead these spy divas on their mission to fight crime and put an end to cyber-terrorism. Traveling from South America to the Far East to North America and beyond, the Cy Girls romp through a series of unique levels in both the real world and a parallel virtual world. When the real-world action gets too hot, the girls can dive into a cyber universe to uncover new clues and utilize new skills that bend the rules of reality.
With the use of explosive firepower and deadly martial arts skills, Ice and Aska take down criminals with their own individualized moves and abilities. Making for a deadly team, Ice specializes in firearms and long range attacks requiring stealth, accuracy and intelligence while Aska is a master ninja, deft at swordsmanship, close combat and precision stunts.
The story is enhanced by a sophisticated control scheme and never-before-seen game mechanics that allow the Cy Girls to perform amazing acrobatic moves. The unique eight-way directional control allows players to move the girls in multiple directions while attacking. With an option to target automatically or manually, players of all skill levels will be able to get the girls to pull spectacular maneuvers with style and flair.