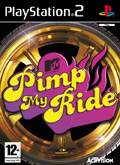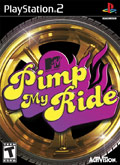 TITLE Pimp My Ride
GENRE Racing
PLATFORM PS2
DEVELOPER Eutechnyx
US PUBLISHER Activision
UK PUBLISHER Activision
NORDIC PUBLISHER Activision
ONLINE PLAY No
Media Screenshots:
SCREENS ADDED: 08 Dec-2006
Videos:
Official Fact Sheet:
Enter Pimp City, where bling is king and speed is everything. On these streets, if your car isn?t fully pimped out, you?d be better off walking. You and Xzibit will take on the challenge of hooking up your homies and transforming their hoopties, buckets and beaters into the hottest whips on the street, while redlining through the streets and alleyways of Pimp City. You choose the mods, you choose the route, but pimpin? ain?t easy. It will take speed and style to hook them up. Do you have what it takes to Pimp their Ride?
Authentic People, Broken Rides ? On each mission, Xzibit will introduce you to a Pimp City peep in desperate need to have his/her ride (and life) pimped. Each personality you meet will have a different hooptie, beater, or bucket that you?ll be in charge of pimping out. You?re success comes when you best capture their styles, likes and interests in how you pimp out their ride. No part of this car is off-limits from the ground-up, bumper-to-bumper, inside and out. You?ll then reconnect with X to the Z when your pimped creation is revealed to the customer to gauge how good of a pimp job you did.
Outrageous Customizations ? While the 32? rims, super low-pro treads, phat paint jobs, and bass pumping audio systems are there for your pimping pleasure, this game goes beyond the commonplace bling. You?ll be tricking out rides with everything from a mechanical bull to a retractable breakaway basketball hoop and everything in between. In true Pimp My Ride fashion, you?ll find off the hook modifications not for your typical ride in this game.
Intense, High-RPM Street Racing ? Hooking up your homies? rides isn?t your only challenge. You?ll be battling the clock, so you?ll only have so much time to do the job. Redline your vehicles to the paint, body, and bling shops located throughout Pimp City?s boroughs in an effort to assemble the most pimped out ride in a very limited amount of time. And each borough is a free-roam environment. You?ll choose the shortcuts and you?ll choose the modifications, but you?ll be at the mercy of the clock. Oh yeah, one more thing?.a rival shop will be competing to win the personality?s favor by pimping out a similar ride while a rogue member of that rival shop has been tasked with ramming and slamming his way into preventing you from reaching your next stop. You better have driving and racing skills in addition to pimping skills.
Ghost Ride The Whip ? One of the ways for you to earn the cash to pimp the cars is to Ghost Ride The Whip. In this mini-game, you will be required to execute dance moves along side your ride while it?s moving next to you in drive. You accomplish this with controller-button sequences mixed with timing. The more flawlessly you execute your moves, the more props and cash you receive. Don?t worry, all the in-game dance moves were performed by professional hip-hip dancers with motion capture technology so you?ll look like a pro as long as you game like a pro.
Roll With Xzibit ? Fully interact with X to the Z as he guides you through every stage of the pimping process. The hip-hop artist and host of the MTV show was digitally scanned and he co-wrote and recorded the voiceovers for his character. You will see, hear, and interact with the true Xzibit and experience the same hilarity that he lends to the show. He has also lent four tracks from his latest CD to the soundtrack for the game.