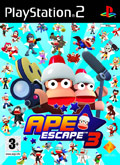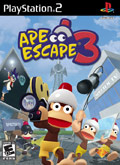 TITLE Ape Escape 3
GENRE Action
PLATFORM PS2
DEVELOPER SCEI
US PUBLISHER SCEA
UK PUBLISHER SCEE
NORDIC PUBLISHER SCEE
ONLINE PLAY No
Media Screenshots:
SCREENS ADDED: 30 Sep-2005
Official Fact Sheet:
Ape Escape 3 continues to expand upon the core theme of the Ape Escape series: capturing monkeys. While remaining faithful to the originality of this hit franchise, Ape Escape 3 promises to bring further improvements to the Ape Escape series. Packed with more content than any previous Ape Escape titles, Ape Escape 3 has a full 28 stages (136 total areas, compared with 84 for the previous installment) and tons of mini games.
Boasting over 430 monkeys to capture, Ape Escape 3 calls upon the skills of veteran monkey-catchers Satoru and Sayaka who both feature as playable characters. In addition, our heroes now have a wardrobe of super-powered costumes to choose from, each with new powers and abilities. Choose from seven different get-ups, depending on the situation – use Sayaka's Cowgirl outfit to dispense hot leaden justice from your twin six-shooters, or give the monkeys a medieval kicking with Satoru's knight armour, complete with shield and lance.
Witness the monkeys as they imitate your favorite characters! These playful and funny monkeys are a barrel of laughs to watch! Children and adults alike will be delighted by the antics of these mischievous little characters!
As a new feature for this installment, the monkeys get angry and counter-attack! These apes aren't immune to frustration, and they aren't afraid to show it! They'll snatch your gadgets, they'll provoke you into battle and they'll attack! They may even capture you for a change!
The conflicts with these irksome monkeys have escalated to dramatic heights, a dead cert for a more spectacular Ape Escape experience than ever before!