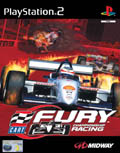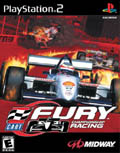 TITLE Cart Fury Championship Racing
GENRE Racing
PLATFORM PS2
DEVELOPER NetherRealm
US PUBLISHER Midway
UK PUBLISHER Midway
NORDIC PUBLISHER Midway
ONLINE PLAY No
Media Screenshots:
SCREENS ADDED: 02 Sep-2005
Official Fact Sheet:
Spectacular, high-adrenaline racing action, photo-realistic scenery and ultra-precision handling place CART Fury in the pole position for open-wheel racing games on PlayStation?2. Like real CART racing, CART Fury positions a 28-car field with selectable driving styles and five unique gaming options (Simulation, Arcade, Season, Driving 101 and Sub-games). Followed-up by seven authentic CART tracks and 11 fantasy tracks, including wild arcade action on The Moon track. Each track is packed with high-speed jumps and mind-blowing obstacles.
Features total of 15 drivers with ten of CART's elite drivers from around the world plus five hidden drivers:
CART Drivers: Michael Andretti (USA), Christian Fittipaldi (Brazil), Gil de Ferran (Brazil), Adrian Fernandez (Mexico), Mark Blundell (Britain), Juan Montoya (1999 Season Champion) (Columbia), Jimmy Vasser (USA), Max Papis (Italy), Bryan Herta (USA), Tony Kanaan (Brazil)
Secret Drivers: Danny Sullivan, Willy T. Ribbs, Bill Lester, Jenny Sheehy, Juliana Chiovitti
Features 18 different tracks, seven official tracks and 11 fantasy tracks:
CART Tracks: Chicago Motor Speedway (oval), Rio de Janeiro, Brazil (road oval), Houston, Texas (street course), Long Beach, California (street course), Toronto, Canada (street course), Road America (road course), Surfers Paradise, Australia (street course)
Fantasy Tracks: California Speedway (road course), Airport Raceway (racing around airport terminals), Frankfurt, Germany (downtown Frankfurt at night), Chicago, Illinois (downtown Chicago and the lakefront), The Skyway (a highway construction zone), Miami, New York, Alpine Raceway, Boston's Big Dig, The Moon (stunt track), Driving School Track
12 secret cars
Five different game modes: simulation, arcade, season, Driving 101 and Sub-games
Sub-games: Last Man Standing, Duel, Block Your Opponent, Time Trial/ Practice Mode, Follow the Line, Lock On
Licensed music by Disturbed, "Stupify" and Outkast, "B.O.B. (Bombs Over Baghdad)"
Loads of crashes and car wrecks
"On Fire" superboost feature
Theater: "Opening Cinema," "Racing Action," "CART Fury Girls," "Day at the Races," "Driver Interviews," "CART Fury Arcade Team"
Multiple driving views: cockpit, behind car and "chase-cam"