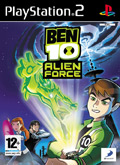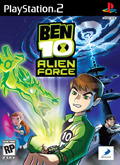 TITLE Ben 10: Alien Force
GENRE Action/Adventure
PLATFORM PS2
DEVELOPER Monkey Bar Games
US PUBLISHER D3 Publishing
UK PUBLISHER D3 Publishing
NORDIC PUBLISHER D3 Publishing
ONLINE PLAY TBA
Media Screenshots:
SCREENS ADDED: 03 Feb-2009
Videos:
Official Fact Sheet:
BEN 10: ALIEN FORCE The Game, based on Cartoon Network?s hit television series, is the only console videogame that allows players to take command of characters from the ALIEN FORCE team to authentically control and experience their adventures. The game begins five years after Ben put away the DNA-scrambling Omnitrix, but now Grandpa Max has gone missing and the planet Earth is in grave danger. Gamers must help Ben take the Omnitrix out of retirement and lead eight different playable characters?including cousin Gwen, enemy-turned-ally Kevin Levin and five of Ben?s brand new alien forms?Swampfire, Jet Ray, Humungousaur, Spidermonkey and Big Chill?to utilize their all-new super powers and defeat the intergalactic invaders! Gamers will experience tons of all-new story content on all platforms, and can even adventure as additional alien forms Echo Echo, Chromastone and Goop exclusively with the Nintendo DS version. Gameplay is fast-paced, 3D, action adventure style offering an unlimited combo system with puzzles and challenges that will engage players of all levels for hours at a time. BEN 10: ALIEN FORCE: The Game comes on the heels of a tremendously successful inaugural game, BEN 10: Protector of Earth, which launched in November 2007 and has sold more than one million units worldwide.
Authentically Step Into The ALIEN FORCE World ? Play the only console videogame that allows you to command members of the ALIEN FORCE team; investigate never-before-seen locations, enemies and characters, and explore favorite places from the best show episodes.
Multiple Playable Characters with Special Superpowers ? Take control of Ben and his new alien forms Swampfire, Jet Ray, Humungousaur, Spidermonkey and Big Chill to manipulate fire, swim underwater, grow more than 60 feet tall, stick to walls, fly at mach speed, plus lots more! Harness Gwen?s talent to create an energy shield to protect and attack, and use Kevin Levin?s ability to absorb materials to create impenetrable body armor. Adventure as alien forms Echo Echo, Chromastone and Goop exclusively in the Nintendo DS version.
Solid and Robust Gameplay ? Explore action-packed levels and secret sections in arcade-style gameplay as you clash with more than 20 types of enemies; use more than 75 attack options and create unlimited attack chaining with the streamlined combo system; engage in two-player co-op on PlayStation 2 computer entertainment and Wii for hours of fun and replayability.
Based On a Successful Television Franchise ? As one of Cartoon Network?s breakout original franchises, the BEN 10: ALIEN FORCE television series is in its first season as a top-rated show, and is the next generation continuation of the phenomenally successful and Emmy-winning Ben 10 original series. A long form television movie based on BEN 10: ALIEN FORCE will debut on Cartoon Network in fall 2008.
Exceptional Level of Authenticity ? The game?s art style, sound effects and music are 100% authentic, with all audio in the game pulled directly from the show sound vaults and all voice acting provided by the original television cast.