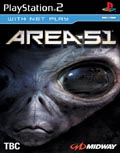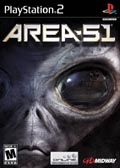 TITLE Area 51
GENRE Action
PLATFORM PS2
DEVELOPER NetherRealm
US PUBLISHER Midway
UK PUBLISHER Midway
NORDIC PUBLISHER Midway
ONLINE PLAY Yes
Media Screenshots:
SCREENS ADDED: 22 Apr-2005
Official Fact Sheet:
Featuring online play for the PlayStation 2 and Xbox Live, Area 51 is set in the U.S. government's most top-secret and secure facility located in the Nevada desert. Players take on the role of Lt. Nick Cross, a hazardous biological waste specialist sent to investigate. During his investigation, Lt. Cross stumbles across alien creatures and becomes infected with a biological mutagen that eventually transforms him into something not quite human. To save the earth and himself, Lt. Cross must fight to solve the enigma of Area 51.
Area 51 takes the player through eight massive levels within a clandestine government complex. Combining intense combat, exploration, adventure, discovery, and puzzle solving, the game blends graphic violence with science fiction. As Lt. Cross, the player will discover secret areas and items, including the answers to this rumored government conspiracy.
Stan Winston, renowned creature designer, contributed to Area 51's intrigue by creating artwork of some of the disturbing alien characters and mutations featured in the game. For more than 30 years Stan Winston has developed characters, creatures and monsters for motion pictures and television. The four-time Academy Award winner is responsible for designing many of the most enduring creatures of the big screen, including the dinosaurs of "Jurassic Park," the extraterrestrial monstrosities of "Aliens" and the fanciful character of "Edward Scissorhands." Nominated for an Academy Award for "A.I.," Stan Winston worked on the newly released "T3" starring Arnold Schwarzenegger.
Extensive Single-Player Campaign – Battle through corridors of Area 51 and attempt to discover the secrets of the extraterrestrial menace before it is too late.
Story-Driven Epic Adventure – Engage in an epic adventure through eight massive sections of a secretive complex.
Fearsome Weaponry – Equip yourself with more than 15 types of human and alien weapons and other equipment as you explore dark corridors.
Evolving Gameplay – An infectious mutagen gives Lt. Nick Cross alien-enhanced physical abilities but is also slowly transforming him into an alien. Find the cure before it's too late and humanity is lost.
Alien Menace – Battle fierce, horrific creatures designed by Stan Winston Studios, famed creature designer for such films as "Aliens", "Jurassic Park" and "Predator".
Government Conspiracies – Explore and discover a multitude of secret items and areas, including the real answers behind such conspiracy theories.
Multiplayer Combat – Compete against your friends via a four-player split screen and system link through numerous multiplayer game modes including Death Match.
Online Combat – Battle online with your PlayStation 2 or via Xbox Live where you can easily access the many systems allowing you to find your friends and set up your own matches.