PS2 Games
Atlantis III: The New World (AKA Beyond Atlantis II)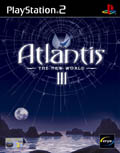 TITLE Atlantis III: The New World (AKA Beyond Atlantis II)
GENRE Adventure
PLATFORM PS2
DEVELOPER Cryo
US PUBLISHER N/A
UK PUBLISHER Cryo
NORDIC PUBLISHER Cryo
ONLINE PLAY No
Media Screenshots:
SCREENS ADDED: 15 Mar-2005
Official Fact Sheet:
In Atlantis III: The New World, the Egyptologist (Mastroianni), searches for a metropolis (Atlantis) built by the ancient Egyptians located near a mysterious well. She is fascinated by the very existence of the lost city of Atlantis because it is still undiscovered and is a long way from her native Egypt.
Along her journey she is befriended by the handsome Tuareg, a loner who lost his family some years ago and decided to turn his back on the modern world to live as his ancestors before him. Refusing to leave our beautiful heroine alone in the desert, he decides to accompany her on her mysterious and dangerous quest for the lost city.
Atlantis, an age-old legend that has survived eras, carries mysterious images of its undiscovered city, in its entire splendor and apocalypse. Like it's predecessors, Atlantis III brings a brand new quest in an even stranger world marked with eternal beauty and a web of intrigue.
From the grand palaces of the Thousand and One Nights to the Hoggar desert, from the Egyptian Book of the Dead to the icy plains of the Palaeolithic, the heroine of Atlantis will guide the player of the game to his or her final destination. Do the former Atlantians still exist?
What is the extraordinary power that would change the destiny of humanity forever? How many challenges must be faced before the truth about the lost city is eventually revealed?
Embark on a voyage across time and several continents, taking you from the Hoggar desert to the cold plains of the Palaeolithic, including the wonderful gardens of the Palaces of the Arabian Nights.
A stunning production providing a backdrop with extremely high quality graphics.
Chiara Mastroianni, celebrated French actress and daughter of the actors Catherine Deneuve and the late Marcello Mastroianni, provides the heroine's voice.
Music soundtrack written and performed by British guitarist David Rhodes (best known for his studio work on Peter Gabriel's solo albums, including the hit single, Sledgehammer.
Featuring word and voice synchronisation; making the in-game characters more authentic and true-to-life.
The game features scenes that can be viewed in 360 degrees.
The game includes dozens of conundrums and puzzles that increase in difficulty as the player progresses throughout the game.
The player can progress through the game with the click of the mouse.
The player can immerse him or herself in a completely absorbing and rewarding game.