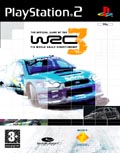 TITLE WRC 3
GENRE Racing
PLATFORM PS2
DEVELOPER Evolution Studios
US PUBLISHER N/A
UK PUBLISHER SCEE
NORDIC PUBLISHER SCEE
ONLINE PLAY No
Media Screenshots:
SCREENS ADDED: 30 Oct-2003
Official Fact Sheet:
Evolution Studios have broken technological boundaries with the special effects in WRC3. Shrapnel particle emitters allow for bodywork and glass to come flying off the cars and a more detailed collision and damage model further intensifies the action. Additionally, working in-car instrumentation, enhanced car handling models and a new artificial intelligence system for driving computer controlled cars adds to the authenticity of the experience.
WRC3 builds upon the expansive environments and elements of its predecessors. All race locations have been populated with buildings, signs and other architectural features such as bridges and tunnels specific to each rally. Roadsides buzz with animated crowds who will react to on-track action. True-to-life junctions have been incorporated to allow realistic crossings of roads and rivers, forcing the player to listen more closely to their co-driver?s pace notes. An even wider variety of different surface types within each stage, along with improved camera flares, lens droplets and embossed tyre trails all combine to make WRC III the most immersive rally experience available.
All elements of the Official FIA WRC license will be updated for the 2003 season, including the teams, new versions of the cars, liveries, sponsors and drivers, countries (including the all-new Rally of Turkey) and stages.
Driver faces with expressions to reflect emotion. More intelligent co-calls with reactions from co-driver. Motion-captured celebration sequences and service area pit crews.
There will be 21 different cars in WRC3 with a total of 48 performance variants including:
All seven WRC3 cars updated for the 2003 season.
WRC Car Evolutions (models that are slightly more technologically advanced than the initial models).
Seven WRC Extreme Cars (futuristic monster versions of the real WRC cars).
Five WRC Concept Cars (teams and manufacturers display another car from their range in rallying form).
Players can choose from five game modes, ranging from a Quick Start race to a full WRC Championship season for between one and four players. All stages can be selected for Two Player Head to Head racing (ghost car). Players can race Championship seasons with both the WRC car set and the Extreme Car set.

Realistic crossing of roads, rivers etc. makes the player listen more closely to the pace notes from their co-driver.

An increase in the number of buildings, signs and objects around the track that are specific to each rally, including architectural features like bridges and tunnels, which provide a real world feeling within each stage.
Enhanced track detail offers more surface changes within a stage, more variety within each surface type, plus textures with road markings etc.
Particle effects include improved camera flares, lens droplets (water and snow) and embossed tyre trails.
WRC3 includes trackside animation allowing crowds and objects to react to the on-track action, bringing the worlds to life.
A special test track containing a wide variety of track surfaces and conditions for players to practice their skills. Including a skidpan, a snow section and all manner of corners, this track will be the setting for the Licence Tests, where players must pass numerous tests to qualify for their WRC Licence and race in the WRC Championship season.