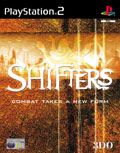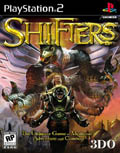 TITLE Shifters
GENRE Action
PLATFORM PS2
DEVELOPER 3DO Studios
US PUBLISHER 3DO Studios
UK PUBLISHER 3DO Europe
NORDIC PUBLISHER 3DO Europe
ONLINE PLAY No
Media Screenshots:
SCREENS ADDED: 21 Sep-2001
Official Fact Sheet:
Shifters looks set to be one of the most creative gameplay and character development experiences yet on the PS2. Players can shape-shift themselves into over 24 different characters, depending on the paths they choose while adventuring through three diverse worlds. Each of the characters is extremely varied in its individual characteristics. For example the Genie forms can fly and pass through solid objects whilst the undead can cast proximity spells that turn any living creature into solid stone.
Using a simple and intuitive interface for players of all skill sets, Shifters is staged across 30 different levels, each with unique challenges, dangers, creatures and atmosphere. Players are thrust into a quest to uncover the unseen evil manipulating their destiny. 'Good' and 'Evil' will both be evident throughout the world and players will actively make choices that ultimately affect the outcome of the story.
In-depth character development in Shifters includes combat training, spell casting and in-game armour changes, all of which affect gameplay. Shifters features enough action with enough depth to keep the mind and reflexes challenged throughout the entire experience. The classic story of the wrongfully-accused hero drives the action and continuous in-game rewards give players a sense of accomplishment as they journey throughout the world.
Shifters features over different 30 creatures for the player to combat and/or interact with. Each creature is extremely detailed in design, complete with skeletal animation and comprehensive artificial intelligence, crowning this 3D masterpiece with bubbling personality and glorious animation.